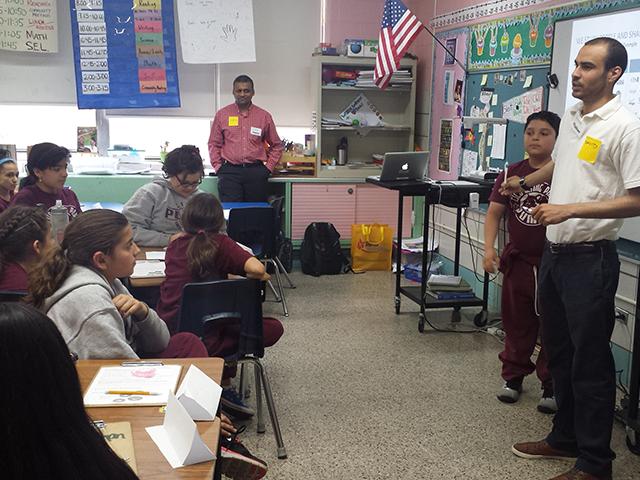 Data is the heart of Nielsen's business, and not surprisingly, our employees love to dive deep into the numbers to explore potential solutions to the biggest problems companies face today across industries.
To share this passion for data with the next generation, members of Nielsen's Diverse Leadership Network (DLN) led a STEM Education Outreach program this past spring reaching more than 100 students in five cities: New York City, Tampa, Chicago, Los Angeles, and San Diego. The program is intended to increase student interest in science, technology, engineering and math and encourage young people to consider careers in STEM.
Participating students, ranging from fifth to 12th graders, were treated to in-person, customized lessons prepared by DLN members organized into small regional teams. Lessons drew upon associate expertise across both the media and retail industries, exposing students to real-world applications of STEM principles.
"STEM education is vital to the careers of the future," said DLN participant Armstrong Monteiro. "What better way to encourage student participation than by exposing them in real-life situations from employers who have a passion and experience within STEM fields?"
At the I.S. David A. Boody School in New York City's Brooklyn borough, 30 sixth graders were invited to administer a consumer survey and analyze the results in order to produce a concept board and packaging for a new cupcake. The exercise required students to work along a regimented scientific process, test their math skills and challenge them to extract insights from data. At the end of the lesson, students presented their package designs and celebrated with cupcakes.
Students in other cities worked on a subject closer to home, literally. In Tampa, 25 eighth graders from Academy Prep, a rigorous private middle school for students qualifying for need-based scholarships, visited Nielsen's Global Technology and Innovation Center in Oldsmar, Fla., and got a crash course on TV ratings. To test their knowledge, students were tasked with calculating their own ratings with data from their classmates. The event was a huge hit; one of the students even asked about internship programs with Nielsen.
In Chicago, the curriculum was delivered to students at the Chicago International Charter School. Students learned more about Nielsen's Total Audience Measurement capabilities. Students put this knowledge to use in a challenge: choose a product they wanted to sell, identify the target audience, and using their newfound understanding of ratings, pick programming to reach the appropriate audience. Students then shared their abbreviated marketing plans with their classmates. "The kids absolutely loved it and thought it was so cool!" said Karin Breo, the school's director.
In Los Angeles, a dozen members of Girls Today, Women Tomorrow, an afterschool organization that prepares inner-city girls for achievement and leadership, learned about TV ratings and reflected on how their viewing habits influenced what was available for them to see on screen. "I guess I never thought about how much power I had when watching TV," reflected one student.
Finally, at the Stephen Hawking Charter School in San Diego, a class also learned about TV ratings and how they are calculated. To tie in with their unit about colonial times and the school's STEAM initiative (adding Art into the STEM equation), students pitched TV shows set in the colonial times. Students used candy ballot boxes to "tune in" to shows, which they then used to calculate their TV ratings. "The session was really interactive and it was great for the kids to see how STEAM translates and has an impact on the entertainment industry," said Kirti Srivastava, vice president, STEAM coordinator at Stephen Hawking Charter School. "We'd like to partner with Nielsen and feature this lesson on an annual basis."
In total, the efforts of Nielsen's current DLN class to expand on the STEM Education Outreach program met with tremendous success. Student engagement was consistent, knowledge was shared, smiles were frequent and fulfillment was evident on both sides of the equation. DLN member Elizabeth Sampson perhaps captured this best, "You never know how your job might inspire someone to pursue a path they may not have known existed…spending time with students with their entire futures ahead of them was extremely rewarding."
There are plans to roll out this curriculum in Canada later this year.
DLN is an 18-month program designed to grow, challenge and enhance the potential of Nielsen's high-performing, early to mid-career associates committed to building their careers while developing more inclusive, diverse and sustainable leaders reflective of the clients, markets and communities we serve.
For more information about Nielsen's diversity and inclusion programs, visit our website at www.nielsen.com.