Nielsen ONE Cross Media Solution

Audiences are everywhere. Between linear TV, connected TV, desktop and mobile, it has been hard to get a single view of who's watching, when they're watching, and on which devices. What's convenient for your audience is complex for you.
Not anymore.
Nielsen ONE delivers deduplicated, cross-media measurement in one place, letting publishers and platforms know exactly who's watching and giving media buyers the power to plan, optimize and measure campaigns with confidence.
The Nielsen ONE platform is designed to meet today's needs and tomorrow's opportunities—for both ads and content. By validating big data with our people-based panels and device recognition, Nielsen ONE gives granular insight into impressions, reach and frequency across platforms with accuracy.
Welcome to the future of cross-media measurement.
Features
Transforming the industry starts here

Cross-Platform
Streamline work and transact with confidence using one of the only audited industry metrics that measures across platforms.
With so many new ways for your audiences to consume ads and content, the media industry needs measurement solutions that can keep up. Nielsen ONE harnesses advancing technology to capture viewers across various screens and helps media buyers and sellers better reach their audiences.
Proprietary identity system
Gain the competitive edge with Nielsen ONE's proprietary identity system incorporating panel, third-party identity data and direct publisher integrations to give you an accurate understanding of true persons-level campaign impressions.
Four-screen ad deduplication
Get deduplicated audience measurement across connected TV, computer and mobile linear inclusive of out-of-home, broadband-only and over-the-air. You'll have a comprehensive campaign view to understand your reach and manage frequency across platforms.
Comparability across TV and digital
Understand how your full campaign–individual commercial or even entire inventory–is performing at a granular level, across all screens. Nielsen ONE delivers "always on" metrics for your digital campaigns and insights at subminute intervals for TV.

Quality
Make decisions quickly and confidently based on high-quality data delivered in a streamlined view.
You need accurate data that reflects today's viewing habits and platform capabilities. That's why we adhere to rigorous measurement standards. As an industry leader in audience measurement for nearly 100 years, we know that to get a real view of the audience, you need to start with real people.
Big data validated by real people
Enjoy the volume of intel from big data with the granularity of demographic insight that only a representative, person-level panel can provide. With data from more than 100,000 panel participants, we have the information that helps you reach the audiences you care about most.
Audited solutions
Transact with the confidence of having one of the only audience measurement solutions that is third-party audited for validity.

Coverage
Plan, target and optimize accurately and efficiently with unmatched audience coverage and visibility.
Making informed media choices starts with knowing what, where and how your audiences watch. Nielsen ONE tackles the fragmentation of cross-media measurement head-on with comprehensive coverage of TV networks, streaming services, connected TV providers and digital publishers—including many direct, walled garden integrations.
Linear TV
Get insight into your audience with comprehensive coverage of linear TV inclusive of out-of-home, broadband-only and over-the-air, bolstered by direct publisher integrations.
Connected TV
With coverage of the most popular streaming services and biggest CTV brands—backed by people-based panel data—you have an unmatched understanding of who's watching.
Computer/Mobile
Our direct integrations with leading walled gardens and digital-first publishers support accurate measurement and demographic reporting for deduplication.
Let's discuss your business needs
Use cases
Plan, buy and sell with confidence
Advertisers and agencies
Reach the right audience, stay agile, optimize budgets quickly and drive measurable impact with a comparable view of all channel performance.
Nielsen ONE helps to answer critical questions like:
Which publishers are best suited to meet my campaign goals?
How are my ads performing across digital and TV channels?
How do I reduce media waste and prove effectiveness across channels?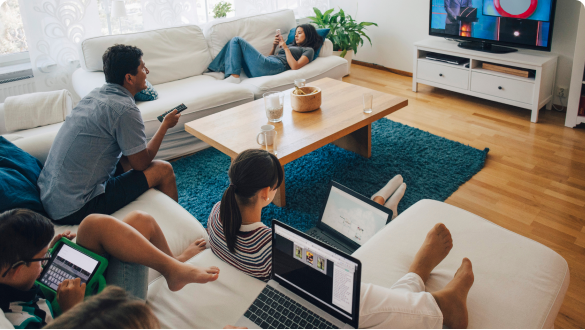 Publishers
Understand the true value of your inventory, measure campaign impact with confidence and discover new, comprehensive ways to reach audiences and drive revenue.
Nielsen ONE helps to answer critical questions like:
How do I know if campaigns reach and resonate with my audience?
How can I tie impressions directly to impact?
How does my platform compare to others?
Related products
Not what you're looking for?
Check out some of our related solutions:
Digital Ad Ratings

Verify audiences and increase returns with deduplicated reach and frequency metrics for advertising campaigns across platforms, publishers, and devices.
Media Impact

Find out where your customers are consuming media at a national or a local level with insights into your target audiences, their lifestyles and media preferences.
National TV Measurement

Discover what U.S. audiences are watching—where, when and how often to determine how to best allocate advertising spend, sponsorship and marketing dollars.