Americans may choose to consume video on the "best screen available," yet traditional TV remains the screen of choice.
The recent results of Nielsen's Three Screen Report – a quarterly analysis from Nielsen's Anywhere Anytime Media Measurement initiative (A2/M2) – show that the average American watches approximately 153 hours of TV every month at home, a 1.2% increase from last year. In addition, the 131 million Americans who watch video on the Internet watch on average about 3 hours of video online each month at home and work. The 13.4 million Americans who watch video on mobile phones watch on average about 3 ½ hours of mobile video each month.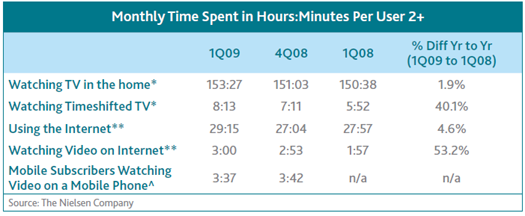 More Time Watching All Screens
In addition, Nielsen data shows that consumers' time with TV, Internet and Mobile video continues to increase across the board. Online video grew 13% in Q1 2009, driven by both strong brand marketing and large media events including the Presidential inauguration, the Super Bowl and March Madness. With broadband levels increasing in the U.S., online video audiences will continue to grow as consumers begin to upgrade their PCs to support increased video consumption. Mobile video viewing has grown a significant 52% from the previous year, up to 13.4 million Americans. Much of this growth continues to come from increased mobile content and the rise of the mobile web as a viewing option.
Out of all different age groups, 18-24 year olds show signs of watching DVR and online video the same amount of time – timeshifting 5 hrs, 47 minutes per month, and watching video online 5 hrs, 3 minutes each month.
Download the complete Q1 09 A2/M2 Three Screen Report from Nielsen.