While gas prices in the U.S. have fallen by nearly half since May 2008, online interest in hybrid vehicles remains strong. The new 2010 Honda Insight was just released in March and is generating online interest from a younger audience than the Prius. The demographic composition of a hybrid shopper is moving closer to the mainstream vehicle shopper's profile.
Some insights on the Insight
The 2010 Honda Insight is having a tough time breaking out of the Prius' shadow as the majority of consumers often compare the two vehicles. However, keep in mind that the Honda Insight just came on the market in March 2009 while the Toyota Prius has been around for roughly 10 years. Buzz generated by the Insight's release in March was no comparison to the attention it gained at the Paris & Detroit Auto Shows.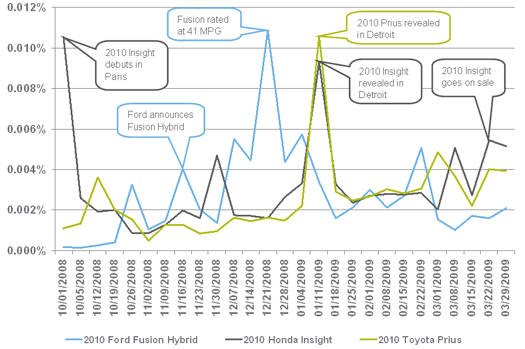 Shoppers, Buyers and Rejecters are turning to Twitter to tweet about their intentions and experiences. Thus far, the 2010 Honda Insight is outpacing both the 2010 Prius and 2010 Ford Fusion on Twitter.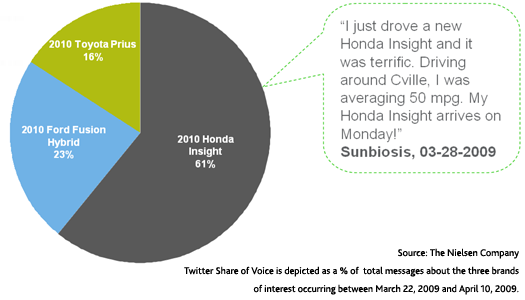 Which hybrid has the most "positive" charge?
2010 Honda Insight online discussion is driven primarily by comparisons to the Toyota Prius. Price is frequently referenced as the Insight's selling point; however, some do not feel that the difference in price makes up for the Insight's lower MPG rate (compared to the 2010 Prius) or perceived lack of features. When diving into the topics surrounding the conversations around the Insight and Prius to gauge sentiment, the Insight created a more polarized view.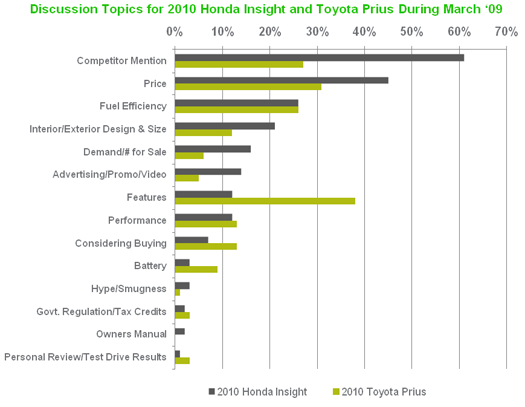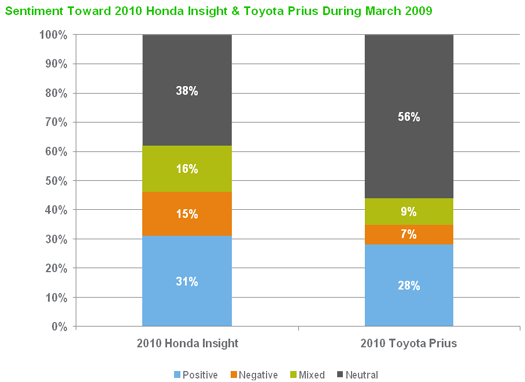 If consumers regularly evaluate the Insight as a potential "Prius Killer," the Insight may fail to emerge with a unique reputation, divorced from the Prius. The perception that the design of the Insight is too similar to that of the Prius highlights the belief that the Prius is the gold standard to which all other hybrids must aspire. Insight and future hybrid cars will have to keep an eye not only on the road, but also the web to help shape the conversations of the new breed of hybrid shopper.