In the U.S., young people's media usage is markedly different from that of older generations but is likely to converge with their elders as they themselves grow older, according to Nielsen SVP of Consumer Insights Dounia Turrill at today's Consumer 360 conference in Las Vegas.
12-24 year olds are more connected, more tech savvy, and more likely to use personal devices such as smartphones, laptops and other gadgets for video viewing. They are also less likely to watch traditional television. But much of this is driven by economic necessity and lifestyle choices, and is likely to change as the younger becomes the older generation.
Young people's media habits seem to have more to do with their specific life stage than with their particular generation. Teens living at home tend to watch more TV overall than 18-24 year olds busy with college or their first jobs. But the "first screen," TV, is less central to both. That may be because they either don't have a TV in their bedrooms or dorm rooms, or because they have to negotiate control of the remote with others in their household. Lower TV viewing by 18-24 year olds may also be due to the fact that they tend to be out-and-about more than older folks (especially during prime time).
Terrill argued that as these same cohorts age and settle down, they will watch more TV. After all, they finally have the time, opportunity, and financial ability to control that first screen.
The thesis is borne out by the behavior of previous generations, who started out watching low levels of television and then watched more as they aged.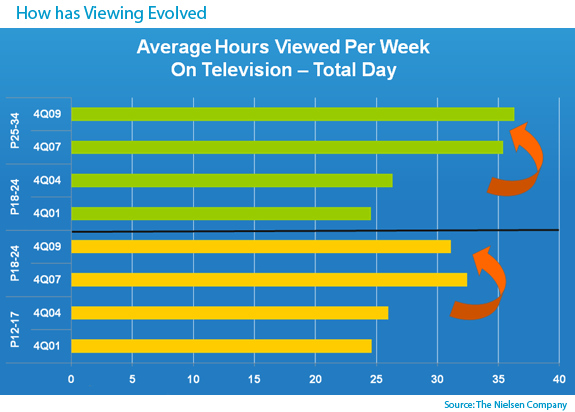 The teens of 2001 watched less than 25 hours of television a week but by 2009 as they aged into 18-24s, they were watching 31 hours of television. Even more dramatically, the young adults of 2001 watched less than 25 hours of television but watched more than 36 hours a week of television as they aged into the 25-35 cohort.