Smartphones and the consumption of mobile data continue to grow in popularity in the U.S. – 37 percent of mobile consumers now have one  – and Google's Android operating system (OS) is proving to be the most popular.  According to Nielsen's April survey of mobile consumers, 36 percent of smartphone consumers now have an Android device, compared to 26 percent for Apple iOS smartphones (iPhones) and 23 percent for RIM Blackberry.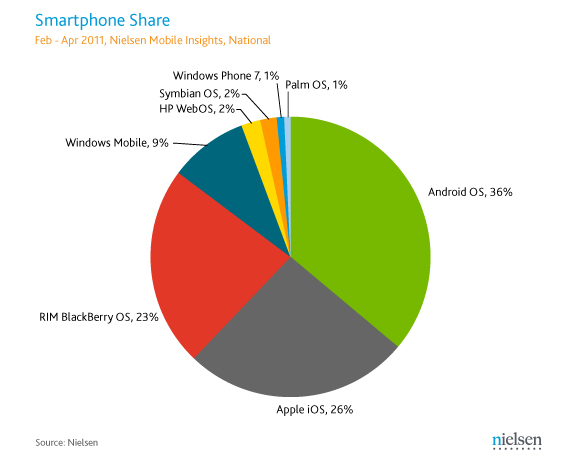 Hungry for Data
Consumers with Android and Apple iOS smartphones exhibit data-intensive usage:
74 percent of Android smartphone owners and 79 percent of iPhone owners report having downloaded apps in the past 30 days

43 percent of Android owners and 46 percent of iPhone owners say they streamed online music or mobile radio in the past 30 days

35 percent of Android smartphone consumers and 37 percent of iPhone owners report having watched video or mobile TV in the past 30 days
But while a higher proportion of iPhone owners engage in these kinds of activities, consumers with Android devices who engage in these activities consume more data on average.  An analysis of nearly 65,000 cellphone bills in the U.S. reveals that in the first quarter of 2011, Android smartphone owners consumed an average of 582 MB of data each month, compared to 492 MB for iPhone owners.