The first half of 2011 saw a resurgence for the music industry, with album sales up for the first time since 2004. According to Nielsen and Billboard's Mid-year Music Industry Report, overall album sales, digital album sales, catalog album sales and vinyl album sales all saw increases over the same six-month period in 2010. Digital sales, which accounted for one out of every three album purchases, are up 19% through the first six months over 2010 and are on pace to set a new sales record at the end of the year. This is just one of a number of records set to be broken—or already broken—in 2011.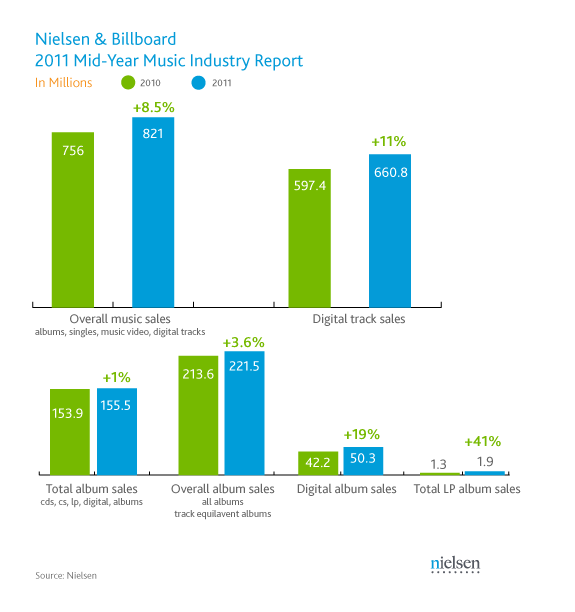 "The consumption of music continues to be greater than ever," says Eric Weinberg, President, Entertainment for Nielsen. "The sales figures for the first half of 2011 show the increased purchasing behavior is being driven by digital album sales, which are up nearly 20 percent over 2010, and the increased purchasing of catalog [older] titles." Weinberg said, also noting that "While digital music sales continue to see strong growth, the CD still accounts for two out of every three album purchases."
Sales figures of note in 2011 include:
Black Eyed Peas' "I Gotta Feeling" became the first digital song to sell more than 7 million tracks on March 20.

On July 3, Eminem's Recovery became the first digital album to sell more than one million units; Adele's 21 is on track to surpass a million units next week. Through the first six months of the year, Adele has the biggest selling; album of the year, digital album of the year, physical album of the year and digital track of the year.

21 by Adele, has sold 2.5 million album sales, 1.5 million physical albums and 992,000 digital album sales while "Rolling in the Deep" has been downloaded more than four million times.

Adele's 19 is the biggest selling catalog album of the year through the first six months of 2011.

Lady Gaga's Born This Way experienced the biggest 1st week album sales of 2011 with 1,108,000 units – the biggest 1st week album sales since 50 Cent's Massacre in 2005. The album sold a record 662,000 digital albums in the first week of release.

"E.T." by Katy Perry tops the chart for best selling digital song for the first six months of 2011 with 4.1 million downloads.
More detail on the report is available at Billboard.biz.