Music sales in the U.S. are up 1.6 percent in 2011, according to The Nielsen Company, as digital album and track sales saw dramatic growth through May 8. While physical albums saw a decline in year-over-year sales from the same period in 2010, digital album and track purchases went up 16.8 percent and 9.6 percent, respectively. Digital retailers received more than half of all music transactions, propelling a 12.4 percent growth in sales over last year.
Catalog album sales are up 5.4 percent in 2011, thanks in part to a long-awaited 2010 deal allowing digital distribution of The Beatles' albums for the first time. Other trends reported by Nielsen include:
Vinyl sales increased 37 percent in the beginning of 2011 over the same period last year.  Vinyl sales also rose 14.2 percent in 2010, although they only accounted for 1.2 percent of physical sales.

2011 saw the most successful Record Store Day in the event's four-year history. Album sales at independent record stores increased over 39 percent the week of Record Store Day (April 16) from the prior week – an increase of 180,000 units – and 12.7 percent compared to 2010.

Rock is the most popular genre of music, with 32 percent album share, while pop music represents 40 percent of all current digital tracks sold.

Ninety-three of the 100 best selling vinyl albums in 2011 fall within the Rock or Alternative genres.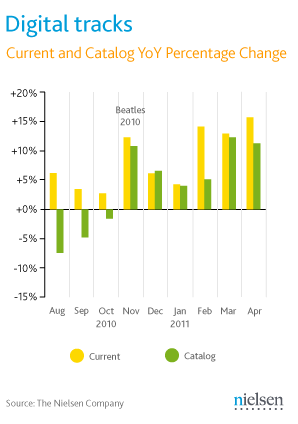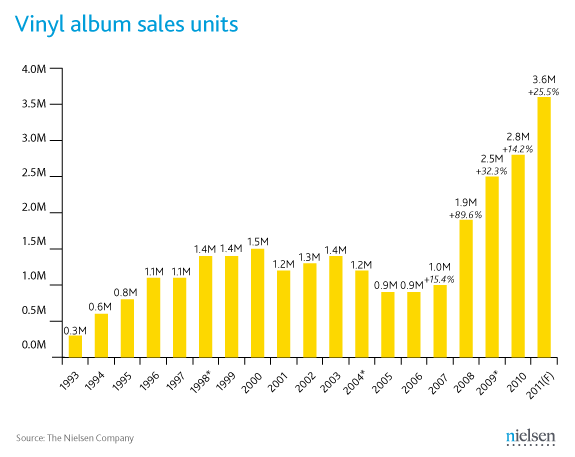 "Strong releases and aggressive promotions by the labels and retailers are among the many contributing factors to the strength we're seeing in the music industry," said Dave Bakula, SVP Analytics, Entertainment for The Nielsen Company. "Overall, the data reflects a continuing strong demand by music consumers."