Nielsen's State of the Media: The Mobile Media Report provides a snapshot of the current mobile media landscape and audiences in the U.S. and highlights the potential power of mobile commerce in the near future.
Key findings:
The majority of 25-34 and 18-24 year olds now own smartphones (64% and 53% respectively);

The majority of smartphone owners (62%) have downloaded apps on their devices and games are the top application category used in the past 30 days;

The number of smartphone subscribers using the mobile Internet has grown 45 percent since 2010;

87 percent of app downloaders (those who have downloaded an app in the past 30 days) have used deal-of-the-day websites like Groupon or Living Social;

Younger groups text the most. In Q3, teens 13-17 sent and received the most text messages (an average of 3,417 each month).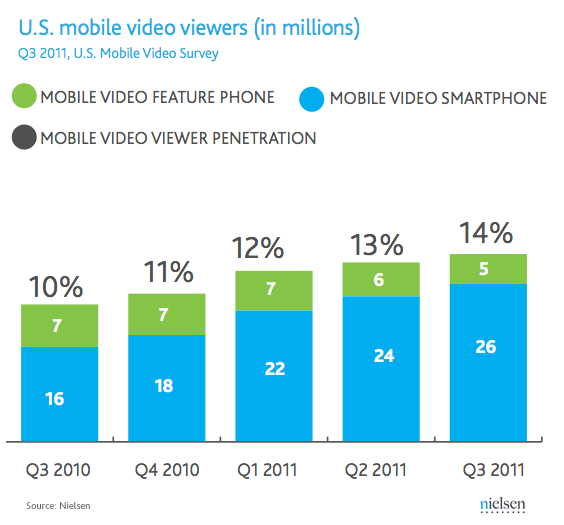 This report draws from a broad range of Nielsen data sources, including: Nielsen's in-depth monthly surveys of mobile consumers (more than 300,000 consumers surveyed each year); Device metering data from the iOS and Android smartphones of thousands of consumers who have volunteered to be a part of our research panel; detailed, monthly analysis of the cellphone bills for 65,000 lines in the U.S., again, thanks to volunteer panelists.
For more, download State of the Media: The Mobile Media Report Q3 2011.