With Election Day fast approaching in the United States, political campaigns are in full gear promoting their candidates on TV, online, and increasingly through mobile devices.  While smartphone penetration stood at only 14 percent during the last election in Q4 2008, it's now at 57 percent as of August 2012.  So it's little surprise that both major party candidates have developed their own smartphone apps and mobile sites to promote their campaigns to this growing audience of smartphone owners.
During August 2012, Barack Obama's official app and mobile site had 2.0 million unique users, about 1.9 percent of smartphone owners.  In comparison, 1.1 million American smartphone owners used Mitt Romney's mobile site or app.  Leading up to the conventions, both candidates saw significant mobile audience growth with double the number of unique users from July, making August the most-visited month so far this year.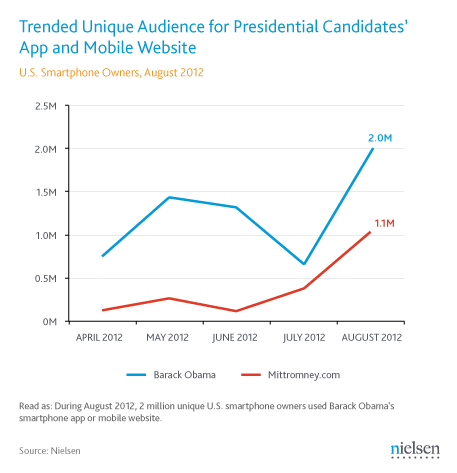 Americans have also increased their engagement with news-related mobile sites and apps, growing from 38 million unique users at the beginning of 2012 to nearly 59 million in August. Smartphone owners are also spending more time with news content during the run up to the election, as time spent went from less than a half hour in January to more than 37 minutes on average during August.
Methodology
A panel of 5000+ U.S. smartphone owners with metered mobile app and Web usage on Android OS and iOS platforms only.