Following the announcement earlier this year by Netflix that their members had enjoyed more than two billion hours of streamed video in Q4 2011, a recent Nielsen survey shows 19 percent of the respondents prefer to use the service for TV or TV-like programming, an increase of eight percent compared to 2011.
The increase comes in the wake of Netflix not just inking partnerships to re-air programming, but also jumping feet first into production themselves, rolling out original content—like the 8 episode "Lillehammer" starring former Soprano sidekick Steven Van Zandt or the upcoming "Orange is the New Black," which is the first project from "Weeds" showrunner Jenji Kohan following the Showtime program's run. The company has also made headlines for resurrecting beloved sitcom "Arrested Development."
Increasing original content could help to drive Netflix users to stream even more TV-like content in the future.
Conversely, subscribers mainly streaming movies dipped from 53 percent in 2011 to 47 percent in 2012. Proving that consumption of media happens opportunistically, Netflix users that prefer to watch both movies and TV shows equally remained relatively flat—36 percent in 2011 and 35 percent in 2012.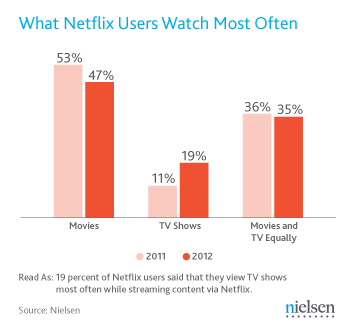 Methodology
Nielsen completed more than 2,200 online interviews in March/April 2012, focusing on usage and attitudes for over-the-top video, particularly Netflix and Hulu.