Dopo un inizio d'anno faticoso, il mercato degli investimenti pubblicitari chiude positivamente il 2015 grazie al traino di un buon secondo semestre che fa ben sperare per un probabile consolidamento in positivo per il 2016. Il mercato chiude con un +1,7% rispetto al 2014 considerando anche la porzione web (principalmente search e social) stimata da Nielsen. Limitatamente al perimetro tradizionale, l'anno si chiude di poco sotto quota zero (-0,5%).
Relativamente ai singoli mezzi, la TV chiude il 2015 con una crescita  dello 0,7%,  grazie a un secondo semestre a +5,3%. Confermano il segno negativo i quotidiani e i periodici che chiudono rispettivamente a -6,6% e – 4,1% l'intero anno. Il mezzo radio si distingue nel 2015 per la crescita sensibilmente sopra la media del mercato: +8,8%.
Anche internet, sulla base delle stime di Nielsen relative al totale del web advertising, aggiungendo dunque la porzione di mercato non monitorata, si distingue chiudendo l'anno con una crescita dell' 8,5%. Escludendo il mondo search e social, la performance del web rispecchia tendenzialmente l'andamento del mercato a parità di perimetro (-0,7%).
Sensibile l'incremento del mondo dell'out of home che, grazie a Expo 2015, chiude con un segno positivo: outdoor +3,3%, transit +15,6% e out of home TV +13,1%. Si conferma l'andamento negativo per il direct mail e il cinema, rispettivamente in calo dell'8,3% e del 4,1%.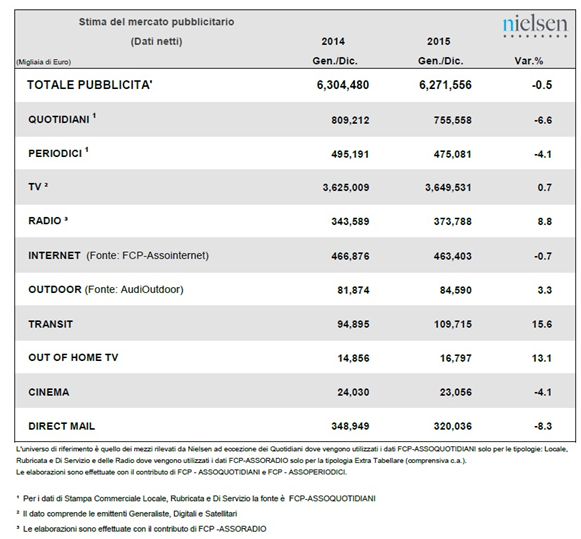 Nel solo mese di dicembre, il mercato cresce del 4,5%. Relativamente ai singoli mezzi nell'ultimo mese dell'anno, la raccolta sulla TV e sulla radio sale rispettivamente del 7,3% e del 5,1% rispetto allo stesso periodo del 2014. Internet cresce complessivamente del 6,5%, mentre la stampa segna un calo del 2,3%. 
Per quanto riguarda i settori merceologici, se ne segnalano 11 in crescita nel 2015, con un apporto di circa 176 milioni di euro. Per i primi comparti del mercato si registrano andamenti differenti nei 12 mesi: alla crescita di alimentari (+6,5%, circa 51,7 milioni) e farmaceutici (+8,6%, circa 25,8 milioni), si contrappone il calo di finanza/assicurazioni -8,7%, circa 28,5 milioni), telecomunicazioni (-7,7%, circa 27,7 milioni). I maggiori apporti alla crescita arrivano da servizi professionali (+7,9%), bevande/alcolici (+9,3%) e gestione casa (+8,5%).
Negli  anni a venire le novità tecnologiche rappresenteranno sempre più un driver di cambiamento anche nella allocazione dei budget pubblicitari, aspettando che i millennials abbiano un ruolo significativo nel cambiamento dei consumi.