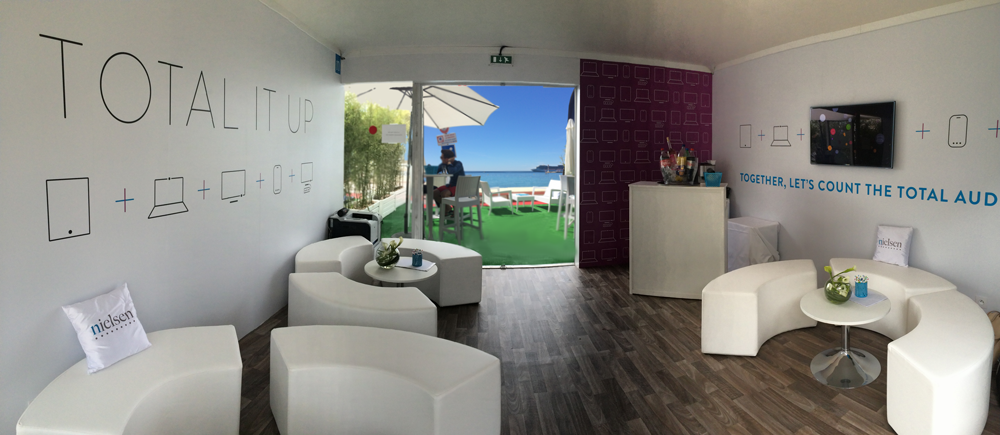 This June marked our fifth year in a row as a sponsor of Cannes Lions Festival of Creativity. This year, our overall participation highlighted the benefit of data-enabled creativity to help focus marketing efforts in the right places at the right times.
Some may wonder what a company like Nielsen is doing at a festival like Cannes Lions. The festival is divided into four different tracks—Cannes Lions, Lions Health, Lions Innovation, and Lions Entertainment—brings together over 12,000 advertisers, agencies, researchers and media technologists from over 90 countries to network and share insights on driving the industry forward. And the 2016 Cannes Lions Festival was a key meeting place, where Nielsen leaders connected with U.S. and global clients along with key industry influencers and organizations to broadened awareness of Nielsen Total Audience measurement and Nielsen Marketing Cloud.
Our presence in Cannes, France, followed on the heels of the European launch of Nielsen Marketing Cloud on June 17. On the ground in our Nielsen-themed beachside cabana, our senior executives—including Mark Zagorski, executive vice president (EVP), Nielsen Marketing Cloud; Terrie Brennan, EVP, Advertiser Solutions; Alain Couttolenc, SVP, Marketing Effectiveness Europe; Andrew Feigenson, managing director, Digital; and David Hohman, managing director, Agency—showcased how our data and solutions can provide superior views of the customer and set the stage for better marketing performance.
To close out our presence during this week-long festival, Nielsen hosted a private VIP reception to celebrate what makes each of us unique, as well as to toast the Creative Data Lions Awards jurors and the winners. Zagorski, who participated as a Cannes Lions juror, and Feigenson shared a few words with the guests of clients, partners, prospects and media attendees.