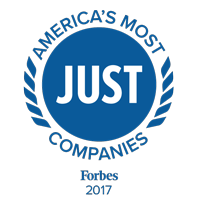 Nielsen was named one of America's Most JUST Companies today, according to Forbes and JUST Capital. In its second annual ranking of of the "JUST 100," JUST Capital ranks companies according to the issues that matter most to Americans, including themes such as environmental sustainability, community involvement, and responsible sourcing. Nielsen was also named the industry leader among Media companies.
The JUST Capital rankings encompass the 1,000 largest publicly-traded companies in the U.S. and are based on a comprehensive survey of public attitudes towards corporate behavior, involving 10,000 American respondents in 2017 and more than 72,000 over the past three years.
"We are honored to be recognized for Nielsen's ongoing efforts to be a responsible corporate citizen," said Crystal Barnes, SVP, Global Responsibility & Sustainability, Nielsen. "Powered by our people, we're committed to continuing to act as a force for good in the communities where we live and work around the world."
The "JUST 100" list of the top 100 companies across all industries in rank order, as well as the 33 top performers by industry, will be featured in the Dec. 26, 2017, issue of Forbes magazine.