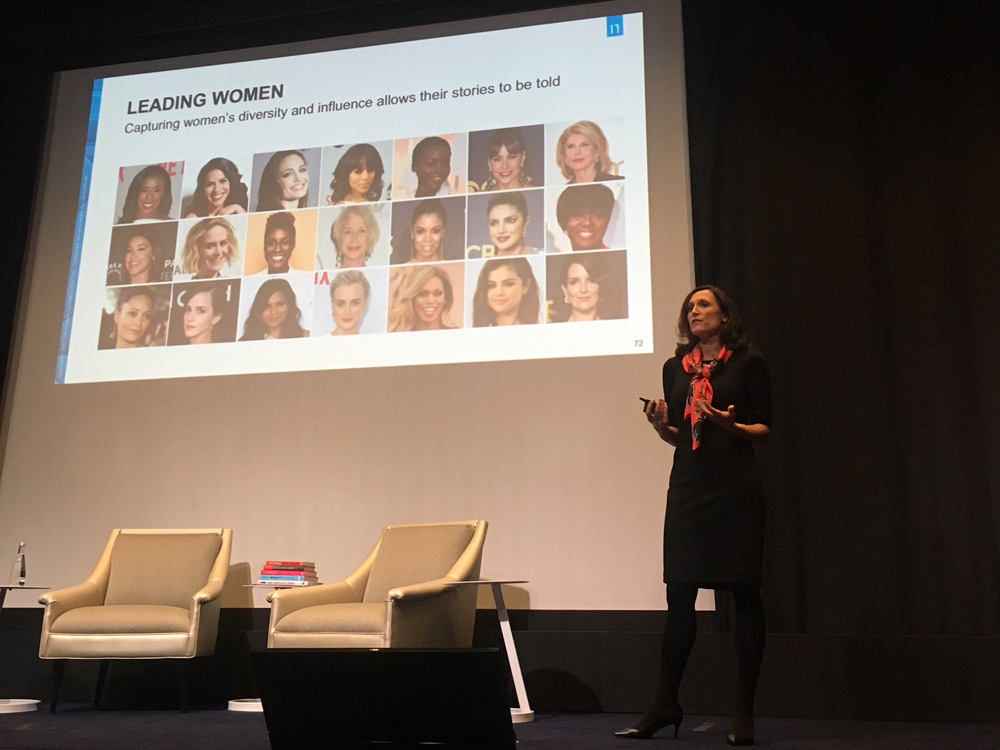 This week, Jessica Hogue, SVP of Product Leadership, participated as a guest speaker at Morgan Stanley's HER Day conference. The day featured presentations coined "HER Talks" curated around the topics and themes of health and wellness, personal and professional development, wealth and philanthropy.
Nielsen's research into consumer behavior allows us to connect with women, to hear their voices and learn more about their daily media and purchasing patterns. Women are connected consumers, with women over 18 in the U.S. spending nearly 8 hours a day consuming media—from their TV to their smartphone—in the first quarter of 2017, up from just under seven hours in the same period in 2015. Hogue's "HER Talk" showcased Nielsen data on women's media consumption, as well as purchasing behavior, drawing a portrait of women's everyday investments—specifically how they spend their time and money.
"Our business is focused on helping clients understand what people watch and buy. Media consumption and purchasing information can provide insight into the telling investments people make in their everyday lives," said Hogue. "Over the years, Nielsen has studied how women approach these everyday investments, and our data paints a picture of women as empowered consumers and economic powerhouses. With their everyday decisions, women have the power to influence not only their households but the economy at large."
Morgan Stanley's HER Day conference provided an interactive and immersive experience designed to connect attendees with the power of women voices, sharpen their life narrative, and contribute to their success and well-being. Along with Hogue, the day's speakers featured a variety of leaders and influencers, including journalist and activist Gloria Steinem, cosmetic-line founder Bobbi Brown, and Morgan Stanley Wealth Management executives, Caroline Gundeck, Shelley O'Connor, Sandra Richards, Lily Trager and Kara Underwood.
Source
Insights in this article were derived from:
Nielsen NPOWER/National Panel (Live+DVR/Time-shifted TV, DVR/Time-shifted TV, DVD/Blu-Ray Device, Game Consoles, Multimedia Devices 12/26/2016 – 03/26/2017),

RADAR 133 (Radio 03/24/16 – 03/29/17),

Nielsen Netview (PC 01/01/2017 – 03/31/2017), and

Nielsen Electronic Mobile Measurement (Mobile 01/01/2017 – 03/31/2017).