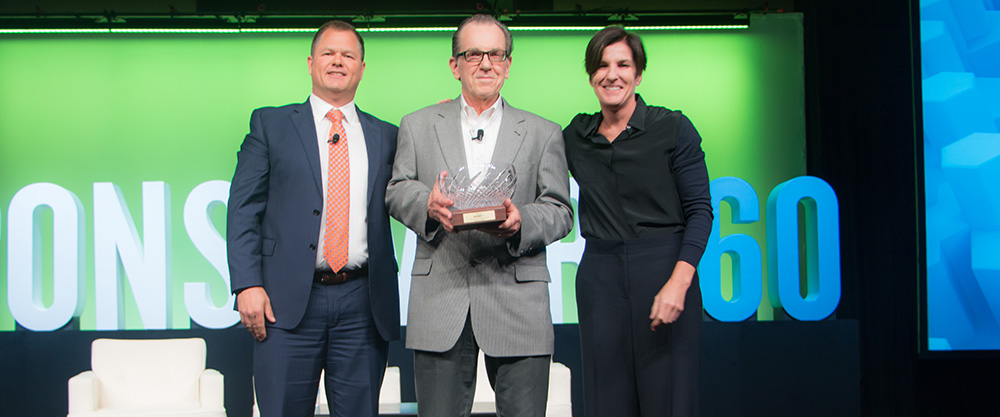 Nielsen Consumer 360 ended with a crescendo this year, with a new tradition: the presentation of the first Consumer 360 leadership appreciation award.
The Consumer 360 leadership appreciation award recognizes a Nielsen client who has had a longstanding and unwavering positive impact on the industry as a whole, but also on the Consumer 360 conference since its inception.
Peter Bradbury, Managing Director, National TV Client Solutions, presented the award to David Poltrack, Chief Research Officer, CBS Corporation and President of CBS Vision, to a rousing standing ovation.
"I think about the pantheon of research and the contributions to our industry and Nielsen specifically, and I'm simply going to say that he's the greatest," said Bradbury.
Poltrack's distinguished career in the industry spans nearly five decades. In that time, he has been a dedicated originator of research for CBS and the industry as a whole, has led various industry groups, such as the ARF, helped design research lab CBS Television City in Las Vegas, taught at NYU and authored a book on television marketing—all while managing massive technological change in the market.
Megan Clarken, Global President of Nielsen Watch, also shared the stage in presenting Poltrack with his award. Thanking Nielsen for the award, he made the following remarks:
"I have been with CBS for 49 years and I've been married for 49 years. People say you're kind of loyal to your institution. I always feel that I'm loyal to two different institutions," Poltrack said. "I'm loyal to my company and I'm loyal to my craft. You are the fellow craftspeople that work in this beautiful and really stimulating world of research and knowledge creation."
He continued, "Nielsen has been a major force in that as well. I just love working with my Nielsen team and I love working with all of you. Hopefully, collaboration will be the key word in our efforts going forward together to help the markets of this country keep that economy going."