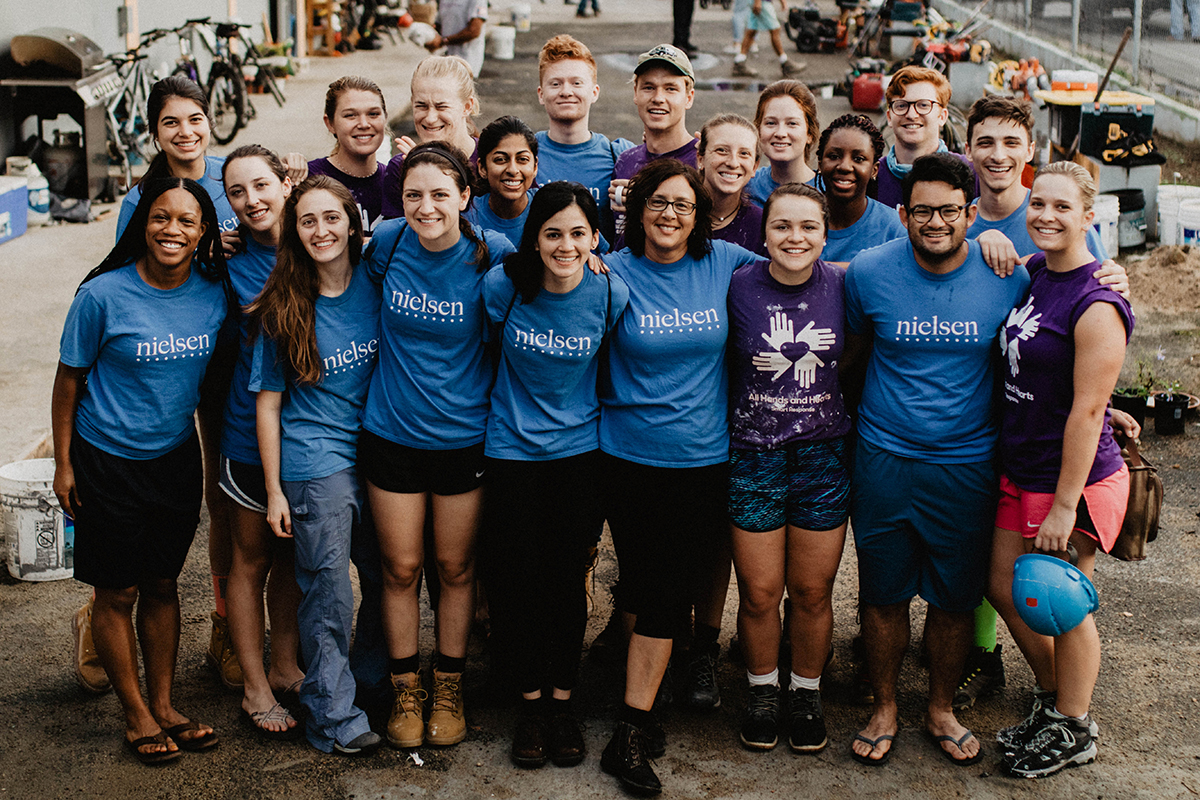 At Nielsen, we're dedicated to giving back to the communities where we live and do business. To empower our employees to give back to their communities, we provide 24 hours of dedicated volunteer time to each Nielsen employee annually. And they're free to use these hours throughout the year for group events or individual volunteering that's meaningful to them.
Last year, Jake Comito, a Commercial Emerging Leader Associate (ELA) at Nielsen, was determined to find a way to help Houston after it was struck by Hurricane Harvey. While he could have simply made a donation and moved on, Jake knew that using his dedicated volunteering time would be a better way to make a meaningful impact. Working quickly, Jake forged a relationship between Nielsen Cares, our global volunteer program, and All Hands & Hearts – Smart Response (AHAH), a volunteer-driven disaster relief organization. He then successfully recruited 16 ELAs to travel to Houston, sleep in bunks and help the recovery efforts, dividing the group into two in order to spend back-to-back weeks providing aid.
With the positive feedback from that first trip, we decided to forge a year-long collaboration with AHAH to support additional group volunteer trips, as well as individual volunteering. One year after Houston, Jake and 19 other Nielsen associates volunteered again, this time in Puerto Rico, which was severely struck by Hurricane Maria in September 2017. From Nov. 12-16, 2018, the group traveled to Yabucoa, Puerto Rico, for a week of repairing homes, roofing and sanitizing.
During the week, the group together logged 800 volunteer hours and worked on at least five houses and a school affected by the hurricane, completing or contributing to a range of projects that included mold sanitation, critical roof repair and cementing. AHAH also gave the volunteers the opportunity to integrate themselves into the community, allowing them to better understand the impact they had on both the individual homeowners and the community at large.
In addition to the week spent volunteering to repair hurricane damage, our colleagues also raised money for the Puerto Rico recovery efforts for AHAH.
Fatou Sow, one of the volunteers, said she was "inspired by the selfless nature of other volunteers from all over the world." Jake also found this year's experience "invaluable," giving the volunteers the opportunity to assist a community in need and develop "lifelong skills along the way."
"When we heard about the experiences of the group that volunteered in Houston and saw the ongoing passion for this organization, extending the relationship with All Hands and Hearts – Smart Response seemed like an incredible way for Nielsen associates to engage with communities impacted by disasters, as well as connect with each other," said Crystal Barnes, SVP of Global Responsibility & Sustainability at Nielsen. "We're so excited to plan additional relief trips in 2019 and continue to build this relationship."
Photo credit: Alicia Kidd Photography