From January 1 to January 14, 2022, the total time spent watching online videos at home in Hong Kong reached 4.6 billion 1 minute, accounting for 1/5 of the time spent watching movies, videos and TV programs at home.A total of 43.02 million Hong Kong viewers have watched online videos at home in the past two weeks.At the same time, Youtube and myTV SUPER occupy the top two A's in the streaming platform.
Watching online video 3 at home reached 46.1 billion minutes, and a total of 43.02 million Hong Kong viewers chose to watch online video.
According to Nielsen data, online video content accounts for 20.1% of viewers' total viewing time of B videos. In the same time period, the viewing time of free TV channel C accounted for 63.7% of the total video viewing time.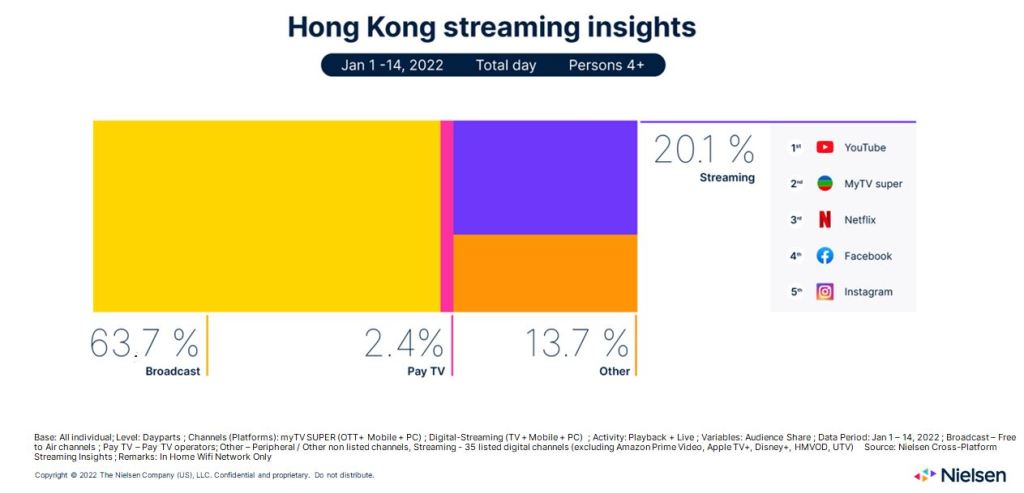 Gigi Lui, Vice President of Nielsen Hong Kong, said: "We are very pleased to release our first online video platform research insights in Hong Kong. The industry is always looking for detailed data on audience exposure to various types of video content, which Nielsen measures and monitors in a quantifiable and comparable way. Viewers' online video viewing behavior, integrated with overall video viewing habits, provides a very important perspective for content creators, we-media, advertising agencies, streaming platforms, advertisers, industry organizations and agencies."
Ranjeet Laungani, general manager of Nielsen North Asia, said: "With the rapid growth of streaming audiences in Hong Kong, Nielsen's solution for Hong Kong's streaming platforms is an important milestone in enabling media buyers and sellers to better understand where home audiences are The impact of using major streaming platforms across devices, and the interactions, behaviors and habits between using streaming platforms and traditional TV viewing. Today, Nielsen ONE, Nielsen's exciting global vision, takes a big step in Hong Kong ."
About Nielsen Online Video Platform Insights
Nielsen Streaming Platform Insights uses a human-driven sample library and proprietary metering technology to measure which media application website (App/Web) is streaming and which devices are streaming (smart TV, connected devices, TV boxes, video game consoles, computers and mobile phones).
By fusing "who", "where", and "what to see". We can create a macro view of how audiences engage with various online video platforms. Using this expert information, you can make critical decisions about how to best reach your target audience, enhance your tour content, or optimize your M&A strategy for Nielsen Streaming Platform Insights Solutions clients.
Data Sources:
Database: Age 4+; Level: Period; Streaming App/Web (TV + Mobile + Computer); myTV SUPER (OTT + Mobile + Computer); Viewing Mode: Live + Playback; Data: As above; Data Period: 2022 January 1st – 14th; Remarks: For home network only
Database: Over 4 years old; Data: Net reach; Data period: January 1-14, 2022
Nielsen Streaming Platform Insights Solutions; Data Period: January 1-14, 2022
Note:
Data only represents streaming activity on the home internet (eg WiFi or wired internet) and does not include outdoor streaming or home streaming that occurs outside of the home internet (eg via mobile internet).
A. Ranking is based on all 35 streaming apps/Web being measured (100Most, 17 Live, Big Big Channel, Big Big Fun, Bilibili, Douyin, Facebook, HBO Go, HKATV, Hong Kong Open TV, i-Cable , Instagram, iQiyi, myTV SUPER (Including myTV SUPER OTT box streaming), Netflix, Now News, Now Player, Now Sports, Now-E, Oriental Daily, PPLive, Qianxun, RTHK On the Go, Sohu, Tencent Video, TikTok, TVB News, TVBAnywhere, UpLive, Viu Yellow, ViuTV Blue, VOOV, Weibo, Youku, YouTube); data period: January 1-14, 2022
Nielsen working to expand streaming coverage, not currently covered: Amazon Prime Video, Apple TV+, Disney+, HMVOD and UTV
B. The audience refers to the 4.3 million Hong Kong people who watch streaming at home
Broadcast – Free TV Channels
Other – other devices (i.e. TV game consoles, TV boxes) / other channels (e.g. satellite channels)
About Nielsen
Nielsen is an industry-leading audience measurement and data analytics company, shaping the industry standard for media and content around the world. Through research and analysis of media consumers and their consumption behavior across all channels and platforms, we provide our clients with independent actionable insights to help advertisers, agencies and media platforms identify and engage their target audiences at all times .
As an S&P 500 company, Nielsen operates in nearly 60 markets around the world. For more information, please log on to Nielsen's official website www.nielsen.com or www.nielsen.com/investors, and contact us on the WeChat official account Nielsen Nielsen.
Minami Nan
Sara Guainazzi