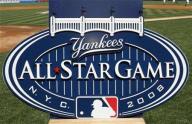 Tuesday night's All-Star baseball game, hosted in New York's soon-to-be-retired Yankee Stadium, marks the end of an era.
But will that be enough to lure TV viewers?
Since 2001, Major League Baseball All-Star Game telecasts have drawn U.S. audiences ranging from 12 to 16 million viewers. Last year's telecast drew 12.5 million viewers — down from 2006, when 14.4 million fans tuned in.
The 2001 game claimed the largest audiences in recent memory with just over 16 million viewers, but that audience was less than half the size of those tuning in during the game's glory days in the late Seventies and early Eighties.
To date, the 1976 and 1980 games claim the largest TV audiences, with 36.3 million and 36.2 million viewers, respectively.
View Nielsen's historic MLB All-Star broadcast ratings.