Brandon Eshman, Nielsen Online
According to the old saying "content is king," right? But what if a combination of content and convenience are ultimately what attract consumers? It's no secret that media today comes in many easy-to-access formats: video, music, TV, podcasts, etc., at the palm of our hand. Consumers have the ultimate choice in what they view and when they choose to view (or participate with) the content. The convergence of traditional viewing habits and the web is inevitable, as evidenced by the popularity of Hulu, Fancast, Netflix, Xbox 360 and the many other streaming content services.
In fact, with so many competitors, it's hard for one service to differentiate itself. However, Hulu is building quite a bit of buzz and brand awareness, and its Super Bowl ad is a case in point. From November 1, 2008 – February 1, 2009, Hulu averaged about 300 mentions per day in the online community. The day following its Super Bowl ad, Hulu attracted 1,082 brand mentions online (a 259% increase).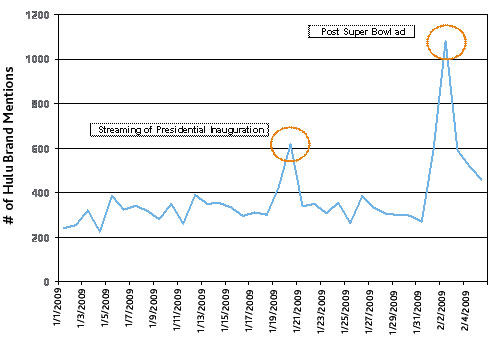 According to Nielsen's BlogPulse, Hulu also generated from Super Bowl Sunday into Monday 448 shared links, i.e. bloggers who passed along a link to the site. Socialmedia.com even crowned Hulu as the winner of the "TweetBowl."
Hulu's Super Bowl ad featuring Alec Baldwin
For the sake of comparison, Hulu's stream of President Barack Obama's inauguration attracted about half the number of brand mentions as Hulu's Super Bowl ad. Of course, buzz about Obama's inauguration far outweighs buzz about Hulu itself, but Hulu's Super Bowl ad succeeded in generating more word-of-mouth buzz about its brand, further building brand awareness. It also attracted more viewers to Hulu, even if they were there to view other Super Bowl ads.
The Hulu ad influenced buzz and reinforced its core message: it's about content andconvenience.