The 2008 Kentucky Derby boasted the third straight year in viewer growth and females comprised 51%  of all viewers aged 18+, no small feet considering the often male-dominated world of sports viewing.
The overall number of viewers tuning in to see Big Brown win last year's Derby averaged 14.2 million, 10 percent more than the 12.9 million viewers who saw Barbaro in the winner's circle just two years earlier.
But the real "horserace" – at least when it comes to Derby viewing – is between men and women, as illustrated in a minute-by-minute breakdown of last year's race: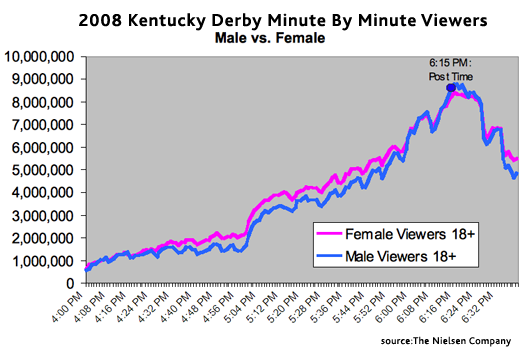 4:00pm ET – The Race for the Roses is two hours away, but the race for viewers is on. Female viewers have jumped out of the gate and hold a commanding lead over the males for the first 2 hours and 11 minutes of Derby coverage.  The pre-race programming is clearly targeted at a female audience with red carpet interviews and personal interest stories, including that of Eight Belles, attempting to become only the 4th filly to win the Derby.
6:11pm ET – The horses leave the paddock and enter the starting gate- and male viewers have pulled ahead for the first time.
6:15pm ET – The gun sounds, and Male viewers are outpacing females 8.6 to 8.3 million, an advantage they hold on to for the next 12 minutes.
6:27pm ET – The horse race is over, and female viewers are back in the viewing lead, 6.8 to 6.4 million. Big Brown is draped in roses, but the coverage takes a somber turn.   The filly Eight Belles after finishing a close second has collapsed at the finish line suffering compound fractures was tragically euthanized on the track.  Female viewers are glued to the TV more than men until the broadcast ends at 7pm.
Triple Crown
It may be rare to have more female than male viewers for a sporting event, but it is even rarer for a horse to win the Triple Crown. While it's been over 31 years since Affirmed won the Triple Crown, it is critical to viewership, for a horse to have at least a shot at the feat at the Belmont Stakes. Last year's final leg, with Big Brown racing for the Triple Crown, received 13.1 million viewers. Compare that to 2007, with no Triple Crown on the line, receiving 4.9 million viewers.
While there doesn't appear to be a strong contender for the Triple Crown this year, the National Thoroughbred Racing Association and the networks (NBC has the Derby and Preakness, and ABC the Belmont) will be hoping a dark horse emerges that captures the attention of the country, and wins the race for the ratings.
Triple Crown Ratings / Winners 2004-2008

*Lost triple crown bid at Belmont / Source: The Nielsen Company