The three major gaming corporations went head-to-head for the attention of consumers last week by making major announcements at E3, one of the largest gaming conferences in the world. Consumers online have taken notice – during last week's conference, buzz is up 30% from the comparable time period for E3 2008. After press conferences by Microsoft, Nintendo and Sony, no clear winner emerges in online buzz, with Microsoft earning the most brand discussion, but buzz for Wii, Xbox 360 and PS3 is nearly equal. Additionally, the game title receiving the most buzz is Nintendo's New Super Mario Bros. Wii.
E3, Microsoft, Nintendo and Sony Buzz, May 24 – June 6, 2009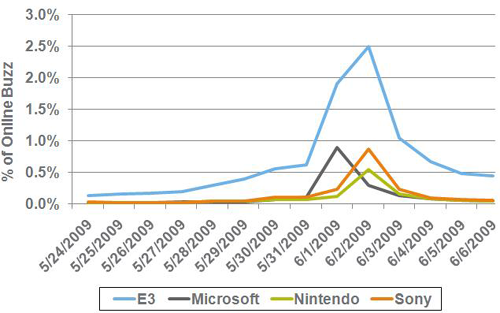 Microsoft kicked-off the excitement with a pre-expo press conference on Monday, announcing the new Project Natal, a hands-free motion sensing device for Xbox 360, and the upcoming The Beatles: Rock Band game. Even with an on-stage appearance by Paul McCartney and Ringo Starr to endorse the new Rock Band title, Project Natal overshadowed all other announcements, generating 12% of E3 discussion.
Not to be outdone, Nintendo and Sony each held press conferences on the first official day of E3, revealing major upcoming products of their own. Nintendo unveiled a new Vitality Sensor for Wii, but consumers more heavily discuss two upcoming games for the ever-popular Mario franchise, New Super Mario Bros. Wii and Mario Galaxy 2. In fact, New Super Mario Bros. Wii beats out other highly anticipated titles like God of War III for PS3 and Metal Gear Solid for Xbox 360 in buzz volume. Consumers also heavily discuss the PSP Go!, the new handheld gaming device officially unveiled by Sony on Tuesday. The new device makes up 11% of all E3 buzz, coming a close second behind the heavily discussed Project Natal in hardware-related discussion.
Title
% of E3 Buzz
New Super Mario Bros Wii
4.60%
Final Fantasy XIV (PS3)
4.30%
Metroid: Other M (Wii)
3.80%
New Zelda Wii
3.60%
Uncharted 2 (PS3)
3.40%
God of War III (PS3)
3.10%
Gran Turismo 5 (PS3)
3.10%
MAG (PS3)
1.90%
Super Mario Galaxy 2 (Wii)
1.90%
Wii Sports Resort
1.50%
Source: Nielsen Online