Viewership levels for the NHL playoffs are up compared to last year on both Versus and NBC, a trend that may continue with a Stanley Cup Finals featuring two hockey crazed cities, Detroit and Pittsburgh, and one of the NHL's brightest stars, the Penguins' Sidney Crosby.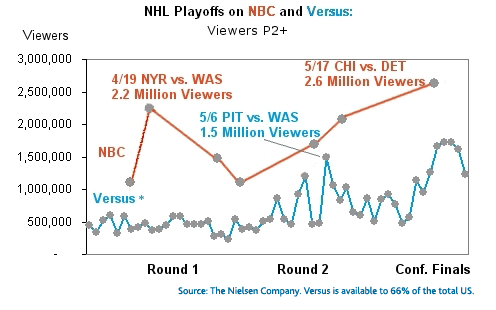 But just as important as the raw viewership for the NHL and Versus, which is available in 66% of US homes, is the brand behavior of these viewers.
With advertising dollars tight in the current economic climate, the pressure is even greater for sports leagues to demonstrate return on investment to their official partners.  Sponsors are demanding results for their integrated marketing campaigns which include commercial spots, in-game signage, as well as online and mobile extensions.
Data from Nielsen's people meter sample fused with the respondents of MRI's (Mediamark Research & Intelligence) Survey of the American Consumer reveals insight into product usage behavior of NHL fans.
For example, how did regular season hockey on Versus perform among groups that used products from official partners of the NHL during the first quarter of 2009?
Verizon Cell phone users had 44% higher viewership ratings compared to the average viewer.  Verizon was the top advertiser in terms of commercial spend for NHL regular season on broadcast and cable, and also sponsors the Versus intermission report.
Bud Light drinkers, the official beer of the NHL, had 80% higher ratings than the average U.S. viewer.
Consumers of Reebok footwear, which sponsors the league's jerseys and a dasherboard above the blue line in every NHL arena, had 62% higher ratings.
It's not just about raw viewing tonnage for advertisers looking for highly targeted marketing. They count on the NHL to deliver unique fans, and translate their passion for hockey to their product.
Armed with return-on-investment tools that can provide cross-platform insights, instead of traditional age and gender demos, advertisers can focus on the NHL fan with targeted messaging that expects to make a difference at the cash register.