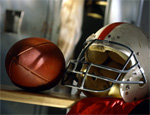 The 2008 Super Bowl was the highest-rated TV show in the U.S. for the year and was viewed by a record 97.5 million people – more than any previous Super Bowl. And, as expected, 42.9 percent of those viewers were males 18 years and older (45.8 million viewers). However, according to The Nielsen Company, 37.7 million women over the age of 18 were also watching. In the last 10 years, the percentage of women watching the Super Bowl between the ages of 18-54 has increased by 8 percent.
Despite this growing female audience, 35 percent of the commercials are still targeted towards male viewers. In fact, during the 2008 Super Bowl telecast, men generally seemed to have enjoyed the commercials more than women.
According to Nielsen, approximately 25 percent of all commercials were "better liked" by men than by women; about 7 percent were "better liked" by women than by men, and the rest were "gender neutral." Even during the various entertainment awards shows – where advertisers presumably make a concerted effort to to target women viewers – these proportions are about the same.
The most popular commercials among male viewers that aired during the 2008 Super Bowl were Bud Light's "ability to breathe fire" and cavemen spots, Audi's "Godfather"-themed spot, Victoria's Secret, GoDaddy.com, and Tide's "to go" spot featuring "the talking stain."
Among female viewers, popular commercials included eTrade's baby spot, T-Mobile's spot featuring basketball star Charles Barkley announcing he's added fellow hoopster Dwayne Wade to his favorite "five" on his mobile phone, and CareerBuilder.com, featuring a woman whose heart pops out of her chest.
At The Tailgate… Pass The Wine?
While football fans are known for their love of beer and chips, Nielsen data suggests that more fans are developing a taste for wine. In fact, avid NFL fans spent 14 percent more on wine in 2007* than in 2006, outpacing the U.S. growth in wine by 14 percent.
Also, spending on skin care products (which includes but is not limited to acne remedies, face cleansers, and hand & body lotions) by the average avid NFL fan increased 19 percent from 2005 to 2007:
During 2007, head of households who identified themselves as avid NFL fans purchased $36.10 in skin care, an increase of $2.30 from 2006 and $5.70 from 2005. This resulted in total sales in the category reaching 1.3 billion – up 23 percent from 2006.

Overall, avid NFL fans outpaced total U.S. spending in skin care by 74 percent from 2005 to 2007.
*Latest database available. 2008 information to be released in February 2009
Read Nielsen's complete pre-Super Bowl report.