Chuck Schilling
Zynga is to Facebook as Clownfish Is to Sea Anemones
Social Networking is all the craze and Online Games are the guilty pleasure of almost half (46%) of all active web users, so it was only a matter of time before someone put the two together. Zynga, only a year old, focuses specifically on adding social elements to casual online games. Just as the symbiotic relationship between clownfish and sea anemones produces mutually beneficial results, so does that between Zynga and Facebook. Although Zynga offers games on other social networks, it is primarily on Facebook's star they have hitched a ride. It also doesn't hurt the relationship that Zynga's CEO and founder, serial entrepreneur Mark Pincus, was an early investor in Facebook.
Not even on the NetView radar a year ago, Zynga has shot up to claim the number 10 spot among all Online Games sites – many of whom have been around for 10+ years. Zynga has achieved its success using a very simple formula – they offer something for everyone (casino, word, board, role playing and party games) and have adapted these games so that people can invite friends to play a new game or join in on a game already in progress. This straightforward game plan has resulted in an astounding 470% growth in total minutes spent on Zynga since February 2008.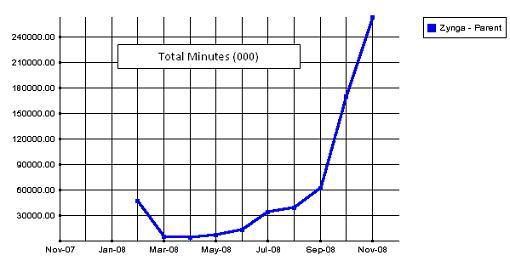 More impressive is the growth in the number of people who have played a game on Zynga. As of November 2008, Zynga had 5.4 million unique visitors play one of its games — that's a 1,180% increase over February 2008.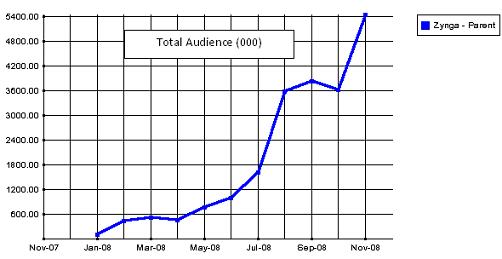 As long as they continue to execute and innovate, Zynga's fortunes should grow right along with Facebook's. Keep an eye on Zynga in 2009 – when marketers get comfortable spending ad dollars on social networks, you can bet Zynga will be right there ready to catch the loose change.