Heading into the Academy Awards telecast on Sunday March 7, viewership is rising for several notable award shows. If this trend continues, this could mean good news for the Academy Awards, especially given overall movie ticket sales in 2009 and the Academy's expansion of the best movie category from five to 10 films.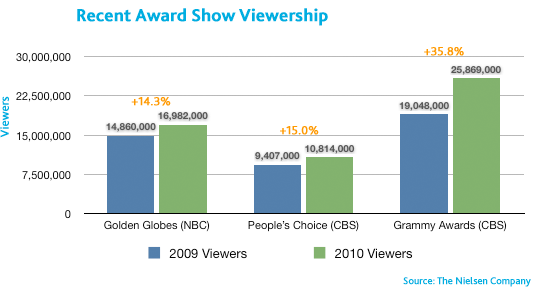 Historical Ratings for the Academy Awards
YEAR
Best Picture Winner
Viewers
2009
Slumdog Millionaire
36,310,000
2008
No Country For Old men
32,006,000
2007
The Departed
40,172,000
2006
Crash
38,939,000
2005
Million Dollar Baby
42,139,000
2004
Lord Of The Rings: Return Of The King
43,531,000
2003
Chicago
33,043,000
2002
A Beautiful Mind
41,782,000
2001
Gladiator
42,944,000
2000
American Beauty
46,333,000
Source: The Nielsen Company
The films and the nominees certainly play a role in the size and demographic makeup of the Oscar viewer. In years where a minority was nominated in a major category, viewership among that ethnic group grew, most notably with African American viewership. Precious, which is nominated for best film also boasts nominees for best actress in a leading (Gabourey Sidibe) and supporting (Mo'Nique) role as well as director Lee Daniels. Past winner Morgan Freeman (Invictus) is also nominated this year.
Recent African American Viewership of Academy Awards
Year
Nominees
Film
African American Viewers
2009
Viola Davis

Taraji P. Henson

Doubt

The Curious Case Of Benjamin Button

3,009,000
2008
Ruby Dee
American Gangster
2,151,000
2007
Forest Whitaker^

Will Smith

Eddie Murphy

Djimon Hounsou

Jennifer Hudson^

The Last King Of Scotland

The Pursuit Of Happyness

Dreamgirls

Blood Diamond

Dreamgirls

4,882,000
2006
Terrence Howard
Hustle & Flow
3,369,000
2005
Jamie Foxx^

Don Cheadle

Morgan Freeman^

Jamie Foxx

Sophie Okenedo

Ray

Hotel Rwanda

Million Dollar Baby

Collateral

Hotel Rwanda

5,270,000
Source: The Nielsen Company

^ = award winner