According to The Nielsen Company, global* consumers spent more than five and half hours on social networking sites like Facebook and Twitter in December 2009, an 82% increase from the same time last year when users were spending just over three hours on social networking sites. In addition, the overall traffic to social networking sites has grown over the last three years.
Globally, social networks and blogs are the most popular online category when ranked by average time spent in December, followed by online games and instant messaging. With 206.9 million unique visitors, Facebook was the No. 1 global social networking destination in December 2009 and 67% of global social media users visited the site during the month. Time on site for Facebook has also been on the rise, with global users spending nearly six hours per month on the site.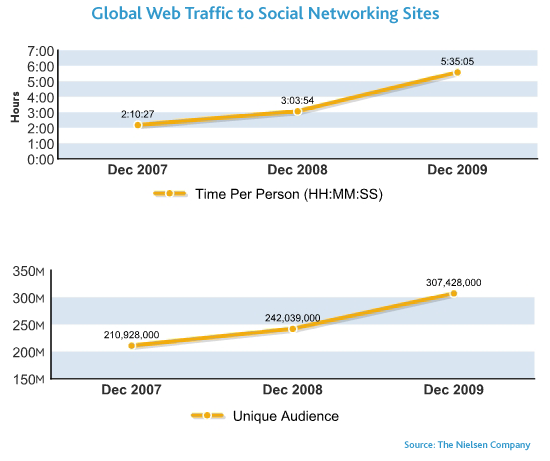 U.S. Growth in Average time Person on Facebook and Twitter Outpaces Growth of Overall Category
People in the U.S. continue to spend more time on social networking and blog sites as well, with total minutes increasing 210% year-over-year and the average time per person increasing 143% year-over-year in December 2009. Year-over-year growth in average time spent by U.S. users, for both Facebook and Twitter.com, outpaced the overall growth for the category, increasing 200% and 368%, respectively. Among, the top five U.S. social networking sites, Twitter.com continued its reign as the fastest-growing in December 2009 in terms of unique visitors, increasing 579% year-over-year, from 2.7 million unique visitors in December 2008 to 18.1 million in December 2009. However, month-over-month, unique visitors decreased 5%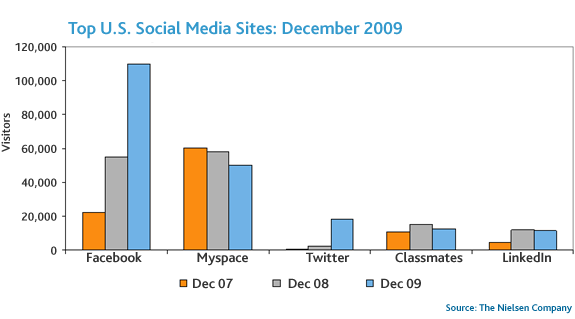 Australia Leads in Average Time Spent per Person on Social Media Sites in December
When narrowed by individual country, with 142.1 million unique visitors the United States had the largest number of social media and blog users in December, followed by Japan, which had 46.6 million unique visitors during the month. Australia led in average time per person spent, with the average Australian spending nearly 7 hours on social media sites in December. The United States and the United Kingdom came in a close second and third, with 6 hours and 9 minutes and 6 hours and 8 minutes, respectively.
Country
Unique Audience (000)
Time per Person (hh:mm:ss)
United States
142,052
6:09:13
Japan
46,558
2:50:21
Brazil
31,345
4:33:10
United Kingdom
29,129
6:07:54
Germany
28,057
4:11:45
France
26,786
4:04:39
Spain
19,456
5:30:55
Italy
18,256
6:00:07
Australia
9,895
6:52:28
Switzerland
2,451
3:54:34
Source: The Nielsen Company
*Global data takes into account the following countries: U.S., U.K., Australia, Brazil, Japan, Switzerland, Germany, France, Spain and Italy