The majority of Super Bowl viewers enjoy the game's ads more than the action on the field, according to results of a survey released today by The Nielsen Company. Fifty-one percent of those questioned said they most enjoy the commercials that air throughout the game when compared to the Super Bowl game itself. Forty-nine percent said that they enjoy the game more than the ads. Results were based on a sample of more than 25,000 households in Nielsen's Homescan panel.
"This survey reinforces the value of the Super Bowl as a marketing bonanza, featuring one of the most receptive TV audiences in the world," said Randall Beard, executive vice president of Nielsen IAG. "With so many viewers waiting for the pitch, the pressure is on advertisers to create and place ads that will have a lasting impact."
Score early
It's no secret that Super Bowl ads on average are more effective than the typical television commercial. But when it comes to ad placement, one trend is clear: earlier really is better. Ads placed in the first quarter of the Super Bowl are better remembered and are better liked. There is a steep drop-off as the game progresses until the fourth quarter, when ad performance settles at a level that is closer to the average for all television ads.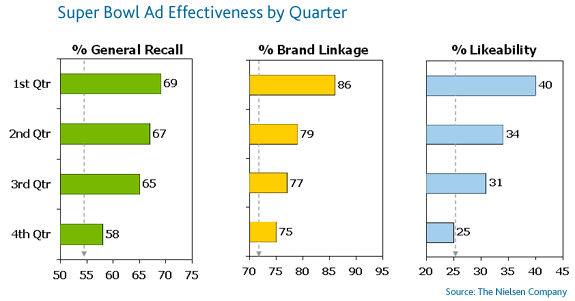 "Even in the Super Bowl, viewers can fall victim to 'ad fatigue,'" said Beard. "Viewers have difficulty maintaining such a high level of focus for that many ads. It doesn't matter if the game is a blowout or a nail-biter."
More Nielsen data regarding consumer spending, media consumption and social media will be released in the run up to the Super Bowl.