In the ever-changing media landscape, consumers'? growing choice of platforms and media content makes it harder for advertisers to reach their desired audience. With an array of options relative investing marketing dollars, advertisers are looking to better understand and accurately measure the impact of their advertising on brand and sales goals. A new Nielsen advertising fact sheet details ad spend and effectiveness trends, as well as the latest insights on branded entertainment.
Key Takeaways:
Television advertising surpassed $18 billion in the first quarter of 2011, growing almost nine percent versus the same period in 2010.

On average, ads that aired during the Super Bowl were 58 percent more memorable than all commercials that aired during regular programming in the first quarter of 2011.

Recommendations from personal acquaintances was cited as the most trusted form of advertisement by U.S. Internet consumers (76%). Forty-nine percent said they trusted consumer opinions posted online.

Mobile advertising is increasingly finding its way into mobile apps, with teenagers being much more receptive than their elders. 58 percent of teens say they "always" or "sometimes" look at mobile ads.

Across 12 broadcast and major cable networks in primetime, there were 5,381 major product placements in 2010, up 22 percent since 2006.

Reality shows dominated broadcast and cable with the most placement occurrences in the first quarter of 2011, accounting for over half of all placements. While consumers can better remember the brands of placements during Sitcoms, placements in Reality programs are the most effective at positively impacting viewer opinion of the integrated brand.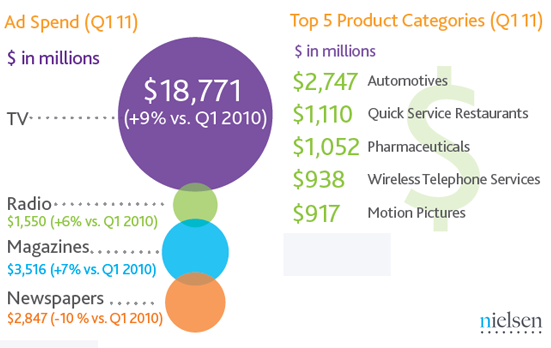 For more charts and trends, download Trends in Advertising Spend and Effectiveness.