The average American watches nearly five hours of video each day, 98 percent of which they watch on a traditional TV set, according to the Nielsen Cross-Platform Report, released today. Although this ratio is less than it was just a few years ago, and continues to change, the fact remains that Americans are not turning off. They are shifting to new technologies and devices that make it easier for them to watch the video they want, whenever and wherever they want.
TV is Still the Center of Viewing
In the past year, the number of homes with an HDTV grew by more than 8 million to 80.2 million, leaving little doubt that the TV screen remains the dominant platform on which to consume video content. But the means by which the content is delivered appear to be shifting.
Traditional—live and timeshifted—TV viewing remains the primary role of the TV, accounting for more than 33 hours per week despite a decline one half of one percent in time spent compared to Q4 2010. To fill the gap, consumers are finding new ways to use their TVs.
Game Consoles Now in Nearly Half of TV Homes
Consoles have become strategically positioned as a secondary gateway to TV content, and can now be found in 45 percent of TV homes, an increase of three percent over last year. With Netflix and other streaming apps, Blu-ray players, social gaming and point of purchase seamlessly integrated into game consoles, it is no surprise that consumers are relying on their consoles to perform double (and triple) duty. These new activities are adding up and contributing to the growth of content consumption. Interestingly, households without children are leading the way in new game console adoption, demonstrating that game consoles are appealing to a range of audiences for a variety of purposes.
Mobile Viewership Small but Growing
With improving screens, Internet connectivity and the advantage of being "the best screen available" while on the go, smartphones are increasingly becoming portable TVs. In fact, 33.5 million mobile phone owners now watch video on their phones—an increase of 35.7 percent since last year. While mobile phones won't replace other screens anytime soon, they are part of the ever-increasing number of ways in which consumers consume content.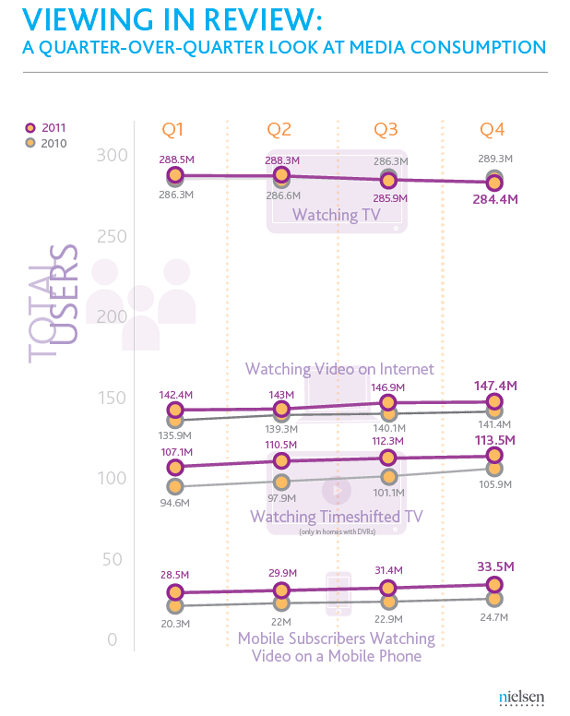 For more information and insights, download Nielsen's latest Cross-Platform Report.