Nielsen is committed to making a difference in the communities in which we live and work around the world by leveraging our insights, involvement and investments. Last year, we donated $10.5 million of our data, products, services and time through skills-based volunteering as part of our annual commitment to A Billion + Change.
"We are thrilled to be a part of this movement to provide nonprofits with data for social good," said Crystal Barnes, vice president of corporate social responsibility. "At Nielsen, our commitment runs deep and is truly powered by our people, who mobilize Nielsen data and insights and their skills and expertise to make an impact every day around the world."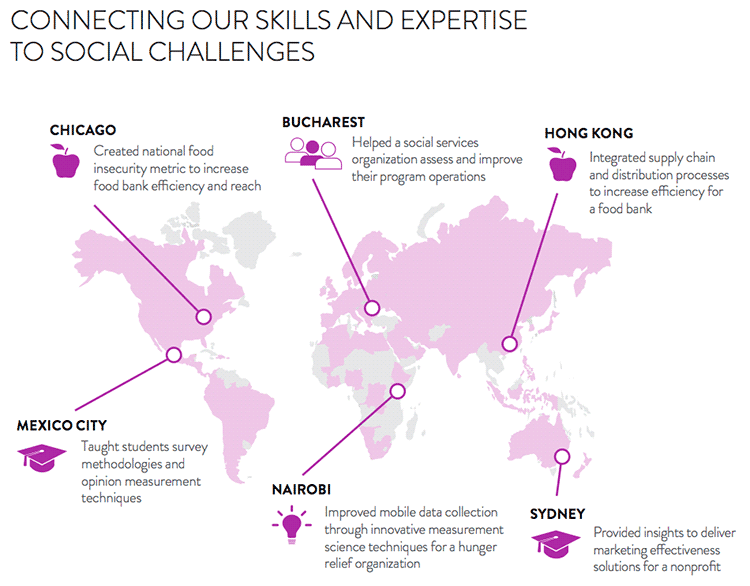 We rely on the passion of our employees, and we depend on their unique skills and expertise to make great things happen at Nielsen and beyond. To carry out effective hands-on and skills-based volunteering projects throughout the year, all Nielsen associates have 24 hours each year for dedicated volunteer time. Together, we will volunteer at least 200,000 hours in 2015 for causes where we can make a difference, including in our key priority cause areas of education, hunger and nutrition, technology, and diversity and inclusion.
To deliver on this commitment, we've had the privilege of collaborating with nonprofits like the World Food Programme and others. This is part of Nielsen's overall strategy to leverage our global presence and unparalleled insights in unique partnerships to make an uncommon impact.