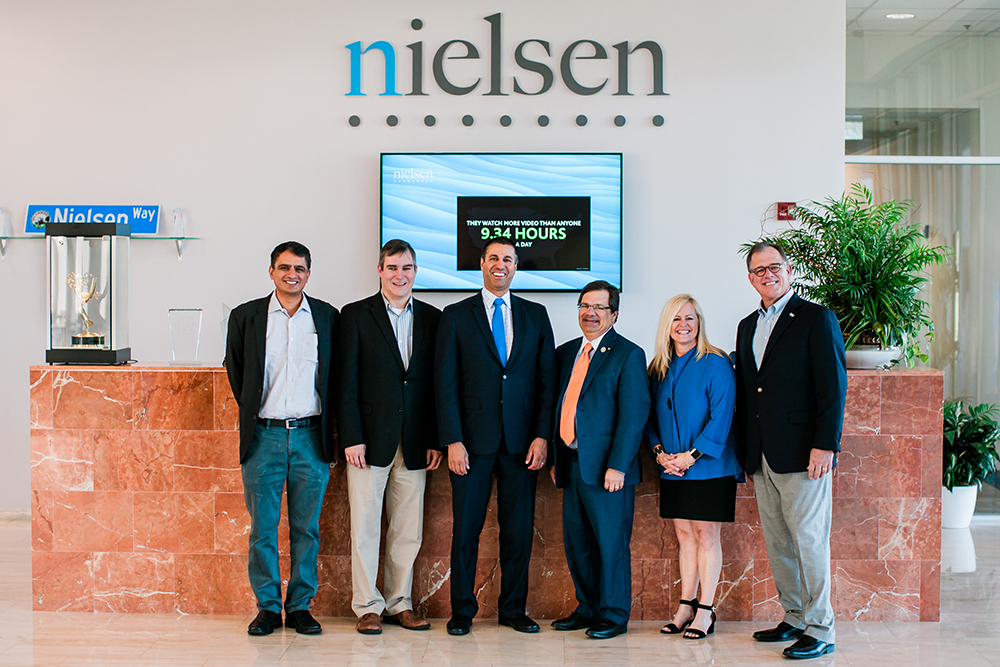 Federal Communications Commission (FCC) Chairman Ajit Pai and Congressman Gus Bilirakis (R-FL), recently visited Nielsen's Global Technology & Innovation Center (GTIC) in Oldsmar, Fla. Chairman Pai's visit was part of a larger Gulf Coast digital opportunity tour, where he spoke with community members and business leaders to help bridge the digital divide. The GTIC is an incredibly important location for our company, particularly for our operations—it's our largest office in the world, with more than 2,500 Nielsen associates from engineering, technology, operations, data science and many other teams.
During his visit, Chairman Pai held a roundtable discussion with Rep. Bilirakis to discuss the benefits and urgency of equipping the entire U.S. with high-speed broadband access. The leaders spoke about how greater access to the internet and the opportunities it affords can help create economic opportunity in communities across the U.S.
"I was pleased to be in Florida and have the opportunity to participate alongside Congressman Gus Bilirakis in a discussion with local business leaders and members of the broadcasting and public safety communities. We had wide-ranging exchanges on 5G, internet regulation, tackling robocalls, revitalizing AM radio, and occupational licensing, among other issues. I look forward to continuing to advance these important issues," said Chairman Pai.
Nielsen associates attended the roundtable and had the unique opportunity to ask questions and participate collaboratively in the conversation. The discussion was of particular significance to our GTIC associates who are charged with measuring consumers' increasing migration to digital content consumption and relaying that information to our clients.
"It was an honor to be joined by FCC Chairman Ajit Pai and members of our local business and public safety community to discuss telecommunication and infrastructure issues at the Nielsen Global Technology and Innovation Center. Make no mistake about it, the first country to effectively harness the potential of 5G capability and other emerging technologies will benefit from an inflow of jobs, money and businesses, " said Rep. Bilirakis. "This is an exciting time. Technology is developing rapidly, and we want to be sure that our policies are keeping pace with the times. Our productive conversation was a big step forward in making sure that the voices and needs of our local community are reflected in the national dialogue."
Chairman Pai and Rep. Bilirakis' visit is a part of our ongoing efforts to build relationships with leaders whose decisions have considerable impact on Nielsen's business and our everyday lives. These engagements give us the opportunity to share diverse consumer insights that inform officials' decisions, as well as to understand the direction of public policy, which allow us to make the best decisions for our clients.
"Our cultivation of relationships with stakeholders in Washington, D.C., is absolutely vital to our ability to craft our strategy and advocate for our business," said Joby Fortson, SVP, Government Relations and Public Policy, Nielsen. "Frequently, our conversations with policymakers in Washington result in changes that greatly influence our business. With this visit, we were able to bring our associates into the room and connect them with key decision makers to find synergies between their everyday jobs and the work we do as a Government Affairs team."
Chairman Pai and Rep. Bilirakis were welcomed to the GTIC by our Community Engagement team. This team builds relationships with community, congressional and business leaders throughout the Tampa, Fla. area, and is our point-of-contact for visits like this one. The team also works to make the GTIC a resource for nonprofit organizations in the Tampa area. In fact, the GTIC hosted to 30 nonprofit events in 2017.
Learn how you can join our GTIC community.