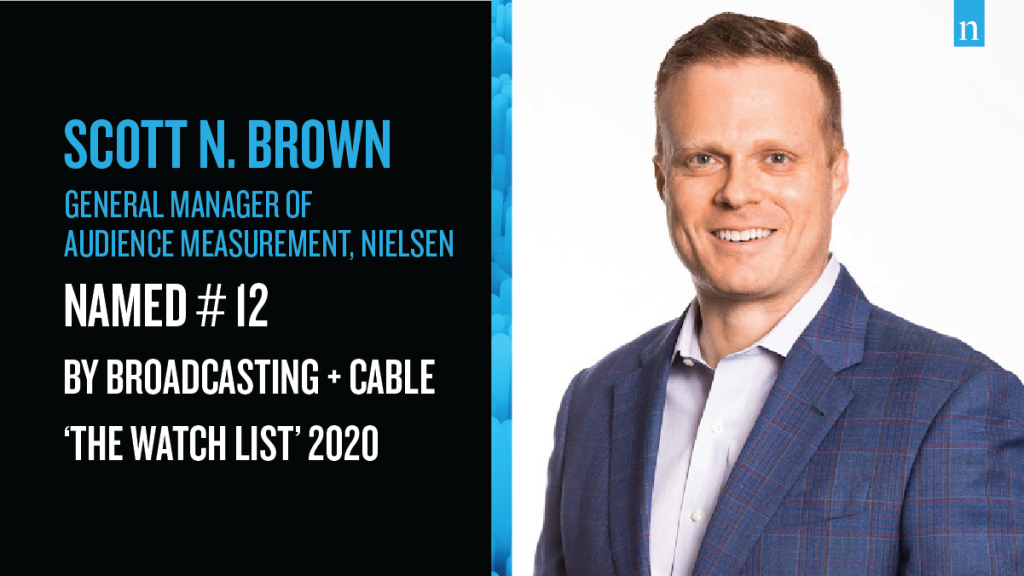 Scott N. Brown, Nielsen's GM of Audience Measurement was recognized by Broadcasting+Cable in its "2020 Watch List" as one of the top 25 media executives charged with the future of TV. Scott ranked at No. 12 on this year's list, along with other well-known CEOs and C-suite level executives from prominent companies in the media industry.
Broadcasting+Cable's "2020 Watch List" recognizes trailblazers in the television industry who are leading the charge in redefining television for the future.
"2020 has been a challenging year for everyone, but in spite of that, as an industry we have been able to achieve great things that have helped us to redefine audience measurement for a better future. I'm humbled to be featured on this list among our industry's brightest who are dedicated to making content and advertising more COMPELLING each and every day."

Scott N. Brown, GM, Audience Measurement
Since becoming general manager of Nielsen's audience measurement in August 2020, Scott has led the charge in transforming Nielsen's approach to audience measurement. He has stewarded Nielsen's digital transformation vision, the inclusion of addressable measurement into the national TV currency, while expanding CTV coverage of additional smart TV manufacturers and digital-first platforms. These strategic changes have helped build momentum for Nielsen's complete overhaul of its measurement system and the introduction of the company's vision for cross-media measurement, Nielsen ONE.
"Today more than ever, advertisers and publishers need measurement that drives more comparable and comprehensive metrics across platforms. With Nielsen ONE, we are doubling down on our efforts to deliver a cross-media solution that the entire industry can embrace and transact on. We're excited to work with the industry to make this a reality," said Scott.
Prior to being named general manager of audience measurement, Nielsen's flagship products, Scott served as Nielsen Global Media's Chief Technology Officer (CTO) for measurement. As CTO, he transformed the infrastructure and modernized television audience measurement by migrating its TV ratings systems to the cloud.