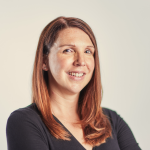 Molly Poppie, Global Head of Product and Strategy, Campaign Analytics, was tapped to receive the Change-Makers Award within the 2023 Top Women in Media and Ad Tech program. These awards, organized by AdExchanger and AdMonsters, recognize, celebrate, inspire and bring together the women who are making an impact in the greater digital media and advertising technology community. The Change-Makers category honors the women who have successfully altered the course of their brands and the industry for the better.
Poppie, a Nielsen veteran, holds the unique distinction of being the most prolific woman inventor in the company's 100 year history. Here's a look at her accomplishments to-date:
Years at Nielsen: 15
Number of Patents Issued: 32
Number of Patents Filed: 73
Number of Patents in 2023: 3
The Intellectual Property Poppie has helped to create has enabled significant product innovation at Nielsen during a period of rapid technological change and evolving consumer behavior. This has effectively set the standard for how the industry measures content consumption and advertising impact.
Throughout her Nielsen tenure, Poppie has spearheaded major initiatives that have successfully transformed how TV audiences are measured and advertising effectiveness is assessed. From data modeling to deduplication initiatives, Poppie's leadership, dedication and openness to change have resulted in ground-breaking intellectual property and innovative products that have fundamentally impacted audience measurement.
Beyond Poppie's impact on Nielsen's product growth and innovation, she utilizes her data analysis skills to help Nielsen advance a more equitable world and build a better media future for all. She commissioned an internal focus group study that addressed issues unique to women and non-binary members in data science, and she currently sponsors research to better represent gender identity response options in Nielsen's data collection that will be incorporated into Nielsen's products.
Poppie has also served as a judge in Nielsen's Data for Good challenge, is an Executive Sponsor of Nielsen Cares and Nielsen Green business resource groups, is a mentor for Nielsen's Diverse Leadership Network group, and has been involved with Common Impact's Pitch Competition in Chicago. She is the embodiment of Nielsen's values of Courage, Inclusion and Growth.
"It's a true honor to be recognized among an inspiring group of women making an impact in our industry," said Poppie. "I'm grateful to colleagues and mentors who have helped shape my professional journey at Nielsen, and I'm excited to give back by paving the way for a new generation of women leaders in media and ad tech."
Winners of the Top Women in Media and Ad Tech Awards were honored at the awards gala on Monday, June 5 in New York City. Visit this link for more information: https://www.admonsters.com/events/2023-top-women-in-media-ad-tech/