With the World Cup kickoff just underway, the tournament is on the mind – and broadband – of soccer fans worldwide. Using Brand Association Mapping (BAM), The Nielsen Company looked at the differences in what was driving the World Cup conversation online across seven different countries.
United States
Surprisingly, the U.S. squad wasn't even the most buzzed-about national team. England, Argentina, Brazil, Serbia, and Spain were just some of the countries more closely correlated to the World Cup in conversations online. American consumers were also talking about various World Cup sweepstakes, whether they be corporate-sponsored (from Yahoo!, EA Sports, and McDonald's) or privately-run pools where members pick the winners. There was also lots of Buzz around David Beckham, who's not even playing in the World Cup due to an Achilles injury.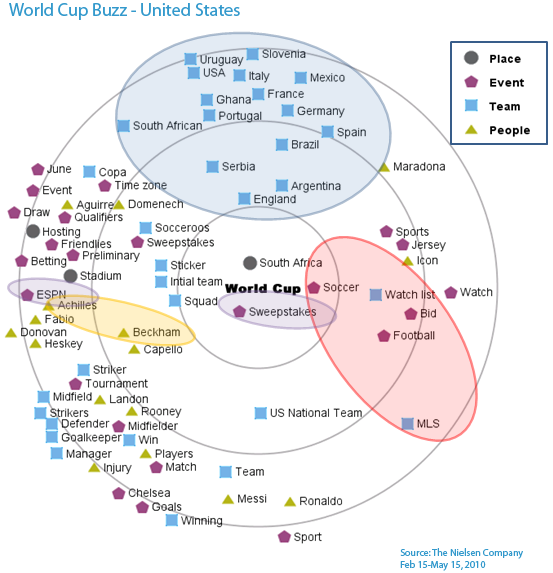 United Kingdom
Many World Cup discussions involved Fantasy football leagues as consumers took a more active role in the tournament as it gets closer. England fans have high expectations for their national team, as indicated by the frequency of terms like like "winning" and "champions" tied to the team. But fans also see a strong foe in Brazil, with similar terms grouped around the Latin American soccer power. England's manager Fabio Capello was the most closely linked person to World Cup messages, followed by the injured Beckham.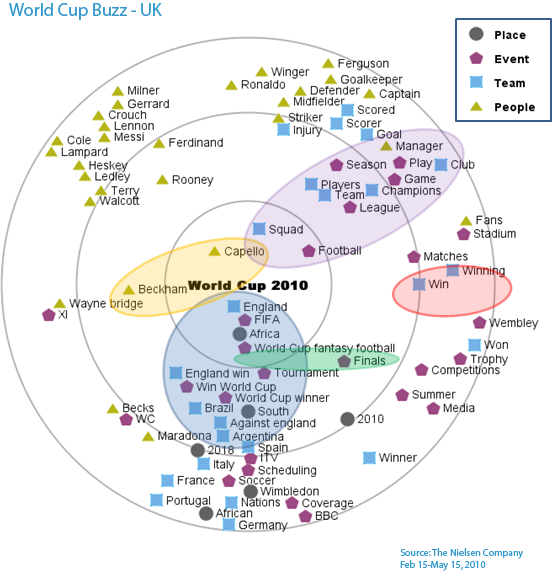 South Africa
The World Cup's host country has more than just soccer on its mind. Visitor and tourism messages drove a significant part of World Cup conversation, as well as ticket inquiries. Key FIFA and Local Organizing Committee (LOC) representatives Jerome Valcke and Danny Jordaan were often cited for addressing these issues. Overshadowing the matches were discussions about security concerns. South African messages also voiced disappointment of Shakira's "Waka Waka" as the official World Cup song.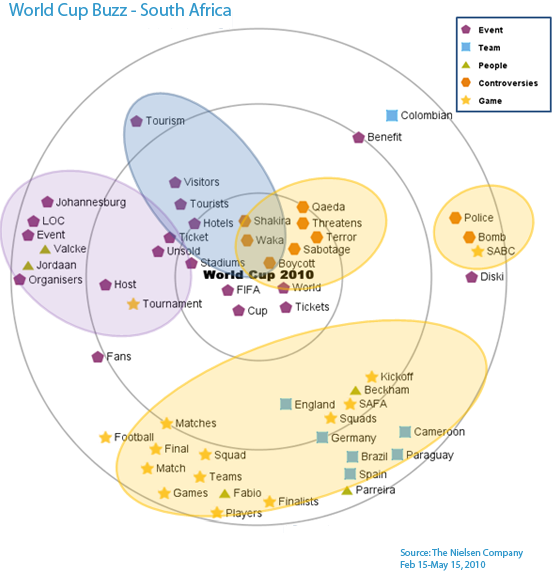 Australia
Even as Australia prepares for the this year's tournament, it's the fate of future World Cups that's on the minds of many of the country's online consumers. Messages about luring the 2018 or 2022 Cup to the Land of Oz – even speculation about potential venues – were prominent in online discussion. As the future of Australian soccer is discussed, many chose to wax nostalgic about the past, with dialogue about retired soccer great Mark Viduka.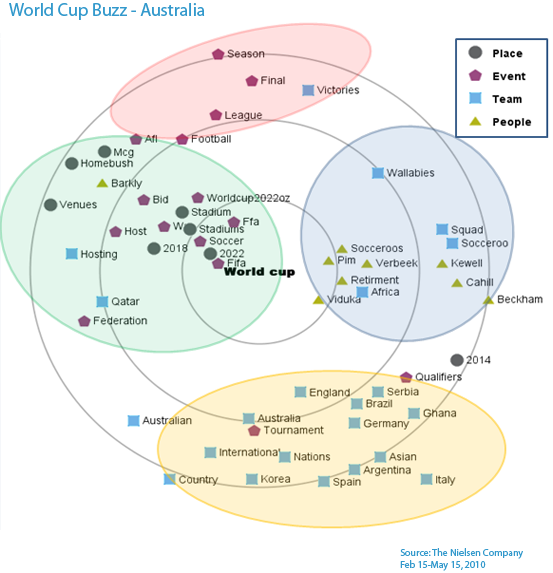 Italy
In the weeks leading up to the World Cup, Italians buzzed about the "Will-he-or-won't-he?" saga of golden boy Francesco Totti coming out of retirement to play for the national team (ultimately he was never called up). Fans of the defending world champs also talked about several members of the Azzurri national team – including head coach Marcello Lippi – and some of the team's top competition, including Brazil, Argentina, and , perhaps surprisingly, Cameroon.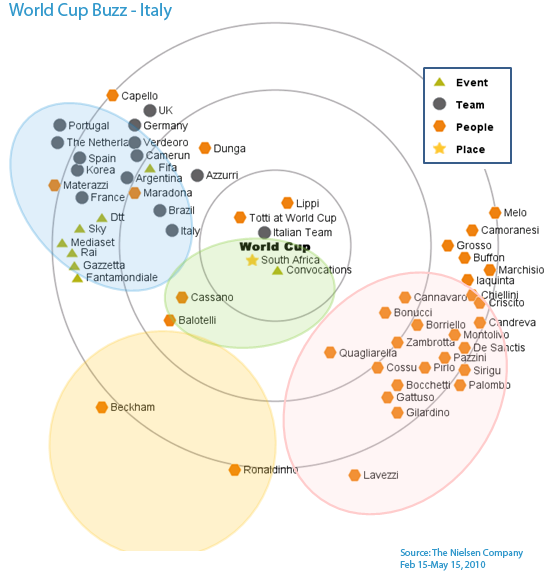 Germany
The Internet provided lively discussion forums for German soccer fans debating who should and should not have made the national team. Leading the debate was who should replace starting goalkeeper Rene Adler who suffered a rib injury that prevents him from playing with the team in South Africa. Speculation of Germany's Group D competition was also very high, with tough matchups against Serbia, Ghana, and Australia in the tournament's preliminary round.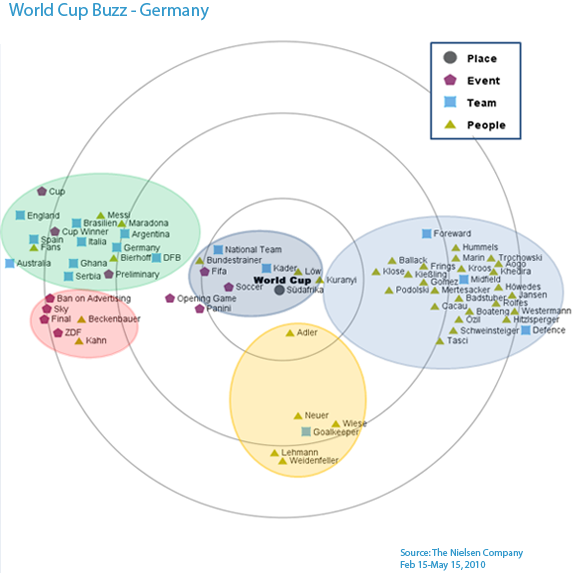 Spain
Spanish fans have been preoccupied with comparisons to South American soccer power Argentina. Messages compare young Spanish phenom David Silva with Argentine superstar Messi and coach Vicente Del Bosque with soccer legend and current Argentina coach Maradona. A classic goalkeeper controversy was also brewing with some calling for Victor Valdes to start over Iker Casillas. Finally – after Sogecable, the leading pay TV company in Spain, sold the rights to Telecinco for some matches and to Cuatro for others – Spanish fans worried about which TV channel to watch the matches and who will be commentating.