Global ad spend rose to $139 billion USD in Q2 2012, a moderate 2.4 percent gain over Q2 2011, according to Nielsen's quarterly Global AdView Pulse report. In a continuing trend, emerging markets saw the most significant increases. The Middle East and Africa grew 19.6 percent compared to Q2 2011, and Latin America saw advertisers increase their spend 4.9 percent.
Ad spend is on a general upswing, with Europe remaining as the only region to see year-over-year declines. Despite growth in the United Kingdom, Turkey and Norway, conservative spending in markets such as Greece, The Netherlands and Portugal led to a downward shift of 3.8 percent.
Overall, regional inconsistency was a theme, with some countries noting large increases and others down year-over-year. In Asia-Pacific, for example, moderate overall growth (+2.9%) resulted from significant increases in countries, including the Philippines, Indonesia and Hong Kong, being offset by declines in markets like South Korea and Australia. In North America, the U.S. grew 2.4 percent while Canada declined two percent. Ad spend in Latin America was also up (4.9%) despite decreased spending in Mexico.
Other key takeaways:
June saw the most growth of the quarter, at 3.1 percent.
Total global ad spend for the first half of 2012 was $266 billion USD.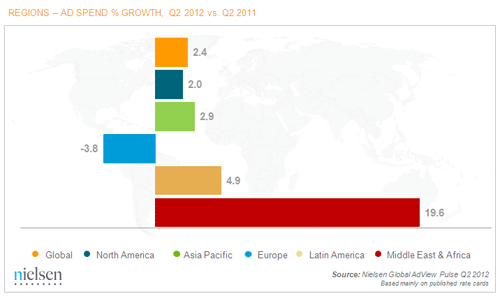 Methodology
Nielsen Global AdView Pulse measures ad spending for TV, newspapers, magazines, radio, outdoor, cinema and Internet display advertising. Some markets may exclude select media due to data availability.
The external data sources for the other countries included in the report are:
Argentina:  IBOPE
Brazil:  IBOPE
Croatia:  Nielsen in association with Ipsos
Egypt:  PARC (Pan Arab Research Centre)
France:  Yacast
Greece:  Media Services
Hong Kong:  admanGo
Japan:  Nihon Daily Tsushinsha
Kuwait:  PARC (Pan Arab Research Centre)
Lebanon:  PARC (Pan Arab Research Centre)
Mexico:  IBOPE
Pan-Arab Media: PARC (Pan Arab Research Centre)
Portugal:  Mediamonitor
Saudi Arabia:  PARC (Pan Arab Research Centre)
Spain:  Arce Media
Switzerland:  Nielsen in association with Media Focus
UAE:  PARC (Pan Arab Research Centre)