From live local newscasts via mobile to time-shifted season finales in the living room, the rising wave of streamed content continues to engage our eyes and ears. And digital music plays a big part of the swell, keeping our toes tapping and heads bobbing.
With nearly 22 billion songs streamed so far this year in the U.S., according to Nielsen, consumers are engaging with digital music at increasingly high rates.
Although there's a plethora of options for streaming songs, most connected device owners listen on their smartphones. Listeners of all ages except those over the age of 55, named smartphones as their collective device of choice for streaming the sweet sounds of the radio. Nielsen's first-quarter 2013 study of U.S. connected device owners found that device owners aged 25-34 and 18-24 are the most likely to stream tunes from the radio using their smartphones (27% and 26%, respectively), while consumers aged 55+ opt for laptops (14%).
When it comes to downloading music, however, consumers prefer laptops, given their larger storage capabilities.
In fact, almost half of Americans aged 18-24 who own a connected device favor a laptop for downloading music (47%). Even technologically fickle teens are just as likely to choose a laptop for downloading music (27%) as they are a smartphone (28%).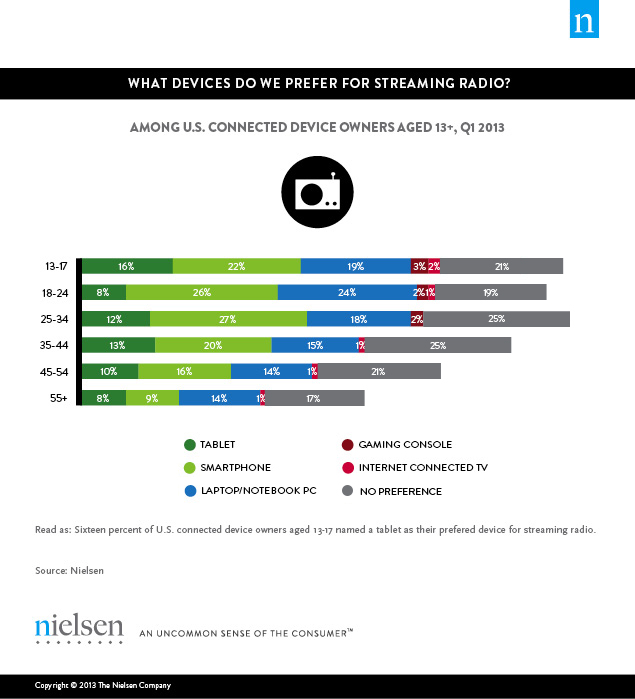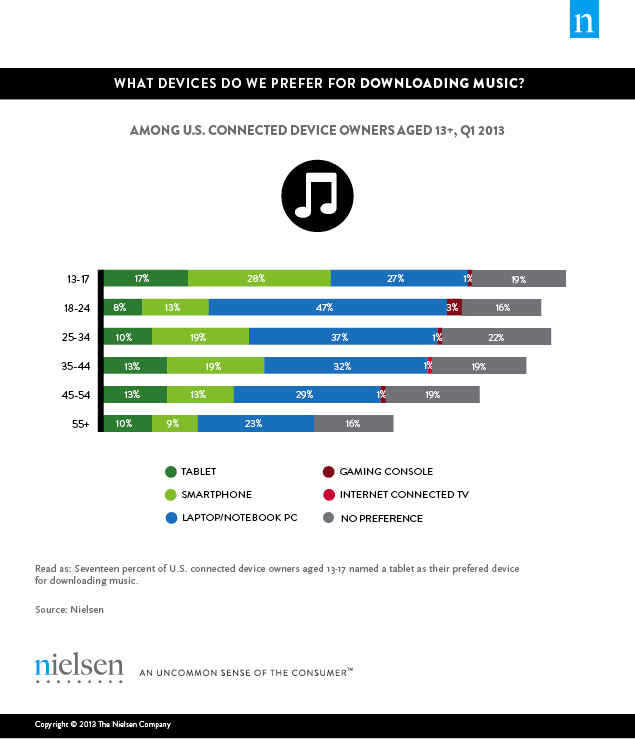 U.S. smartphone owners are also using radio-esque apps more than they were a year ago. An April 2013 analysis of five of today's arguably must-have music streaming apps found double and triple-digit growth in unique users over the past year.
All of the apps from the select group grew in popularity, but the iheartradio app showed the largest increase, as the number of users in April 2013 had more than doubled from the prior year (107% increase in users). Spotify, which has steadily gained traction in the U.S. following its July 2011 launch, followed with a 91 percent increase in app users from April 2012. The other analyzed apps also showed strong year-over-year growth: Slacker Radio (84%), Pandora (71%) and Rhapsody (41%).
What's more, the Pandora radio app is pretty popular among users of the other analyzed radio apps. Approximately one-third of the users of the other radio apps also used Pandora during the month. Twenty-seven percent of Rhapsody app users also used the Pandora app.
Using Multiple Music Streaming Apps
Among U.S. smartphone owners aged 18+, Android & iOS only, April 2013
Music Streaming App
% of users who also used Pandora
% of users who also used Rhapsody
% of users who also used Slacker Radio
% of users who also used Spotify
% of users who also used iheartradio
Pandora Radio
N/A
1.0%
5.0%
5.2%
11.1%
Rhapsody
26.5%
N/A
16.0%
6.7%
13.5%
Slacker Radio
32.6%
4.0%
N/A
4.0%
8.4%
Spotify
34.1%
1.7%
4.1%
N/A
10.0%
iheartradio
32.0%
1.5%
3.8%
4.4%
N/A
Read as: During April 2013, 27 percent of Rhapsody app users also used the Pandora radio app.
Source: Nielsen
For more information about music consumers, download Nielsen's U.S. Entertainment Consumer Report.