Fall is here, and the falling temperatures remind us that the holidays are fast approaching! So what are topping people's wish lists this year? For gamers, it depends on the device. 
"Destiny" recently took the gaming world by storm when it was released last month, and now it tops the list of the most coveted games on the PS4. Meanwhile, perennial crowd-pleaser "Call of Duty" holds the top spot for Xbox One with "Call of Duty: Advanced Warfare," and "The Sims 4," the new entry to one of the biggest franchises of PC gaming in recent years, tops the list for computer gamers. The two new versions of Nintendo's popular fighting franchise "Super Smash Bros." top the lists for Wii U and 3DS. Finally, the building block empire of "Minecraft" tops the list of titles for Vita.
The No. 1 coveted games illustrate a trend we see among the top 10 anticipated games across devices: People like what they know. Apart from "Destiny," the only other new properties in the top 10 for any of the six platforms examined were "Watch Dogs," the fifth most anticipated title on Wii U (the title released earlier this year for PCs and PS and Xbox platforms, but is releasing in November for Wii U), and "Freedom Wars," the sixth most coveted title on Vita. Even "Akiba's Trip: Undead & Undressed" (the third most wanted Vita game) is technically a sequel, though the original title released only in Japan.
With the lists dominated by recognizable brands for the gaming industry, new entries from annual franchises are highly coveted. These include "Madden NFL 15," "Call of Duty: Advanced Warfare," "NBA 2K15," "Assassin's Creed: Unity," "NHL 15," "Just Dance 2015" and "Pokemon Alpha Sapphire/Omega Ruby." In the case of "Grand Theft Auto V"—one of the most popular games of 2013—a new iteration isn't even necessary to drive desire: Rockstar is releasing updated versions for PS4 and Xbox One, making the game the fourth most coveted game for both platforms in 2014.
Less frequent but equally as enticing series also made the list with new iterations, including "The Sims 4," "Civilization: Beyond Earth," "Far Cry 4," "Super Smash Bros.," "Dragon Age: Inquisition," "LEGO Batman 3" and "World of Warcraft: Lords of Draenor." Clocking in the greatest length of time between iterations, however, is the long-awaited sequel "Wasteland 2," which continues where the original title left off more than 15 years ago.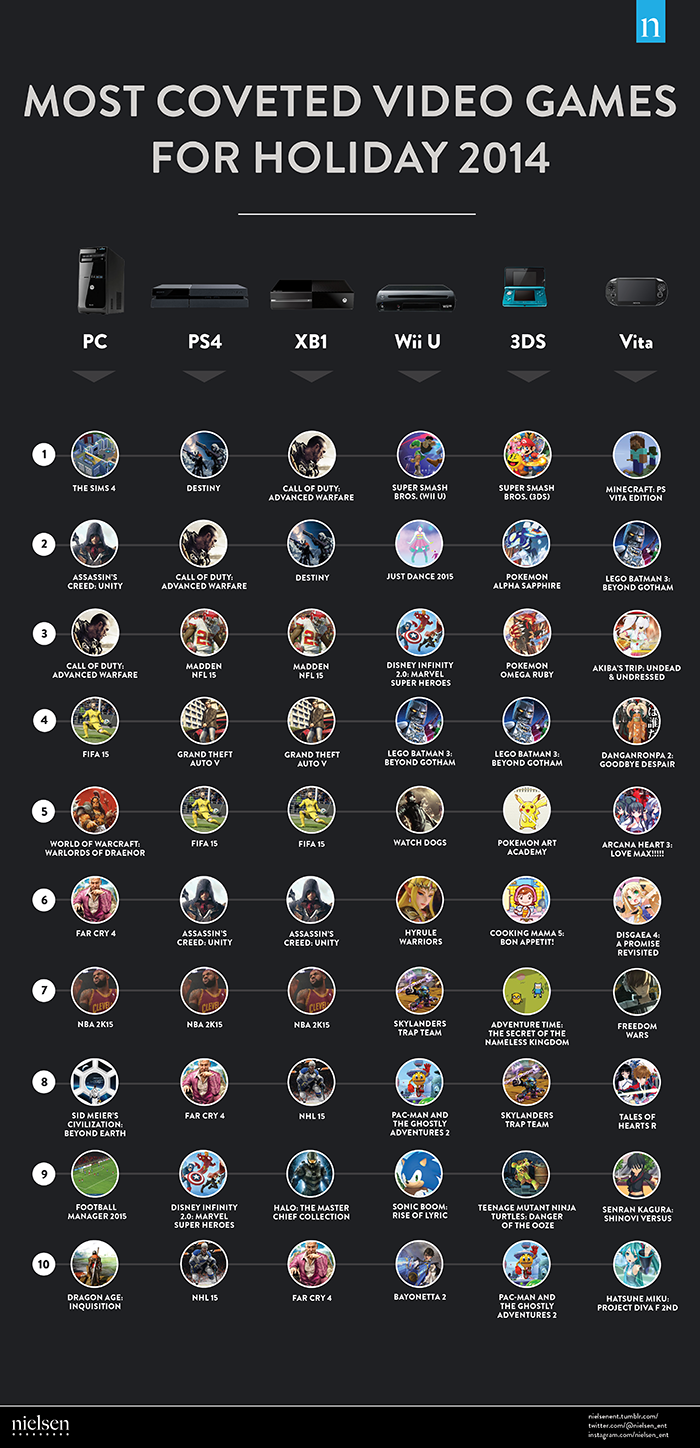 Outside of the top 10, we found a few new titles exclusive to particular platforms or brands that are not part of franchises. PS4 gamers are looking forward to taking Sony's new racing game "DriveClub" for a spin around the block. Shooter fans on Xbox One welcome the opportunity to battle the mutants of Sunset City in "Sunset Overdrive," and "Disney's Fantasia: Music Evolved" offers gamers on that platform the chance to enter a magical musical realm. And though "The Legend of Zelda" is not a new property, Nintendo is presenting a new spin to fans of that franchise in "Hyrule Warriors," a video game mash-up of "Zelda" and "Dynasty Warriors."
Top Five Titles Exclusive to each platform or brand
Rank
PC
PS4
XB1
Wii U
3DS
Vita
1
The Sims 4
LittleBigPlanet 3
Halo: The Master Chief Collection
Super Smash Bros. (Wii U)
Super Smash Bros. (3DS)
Akiba's Trip: Undead & Undressed
2
World of Warcraft: Warlords of Draenor
inFamous: First Light
Forza Horizon 2
Hyrule Warriors
Pokemon Alpha Sapphire
DanganRonpa 2: Goodbye Despair
3
Sid Meier's Civilization: Beyond Earth
DriveClub
Sunset Overdrive
Sonic Boom: Rise of Lyric
Pokemon Omega Ruby
Arcana Heart 3: Love Max!!!!!
4
Football Manager 2015
Akiba's Trip: Undead & Undressed
Dance Central: Spotlight
Bayonetta 2
Pokemon Art Academy
Disgaea 4: A Promise Revisited
5
Wasteland 2
Natural Doctrine
Fantasia: Music Evolved
Captain Toad: Treasure Tracker
Cooking Mama 5: Bon Appetit!
Freedom Wars
Source: Nielsen
Methodology
Our list of 'Most Coveted Games for Holiday 2014' was constructed using survey data of nearly 5,000 gamers of all ages over recent weeks from Nielsen's Video Game Tracking, considering key consumer measures including purchase interest, purchase urgency, consumer rating and others. Titles considered for the report are those that have released since Aug. 1, 2014, or are expected to release before the end of this year.