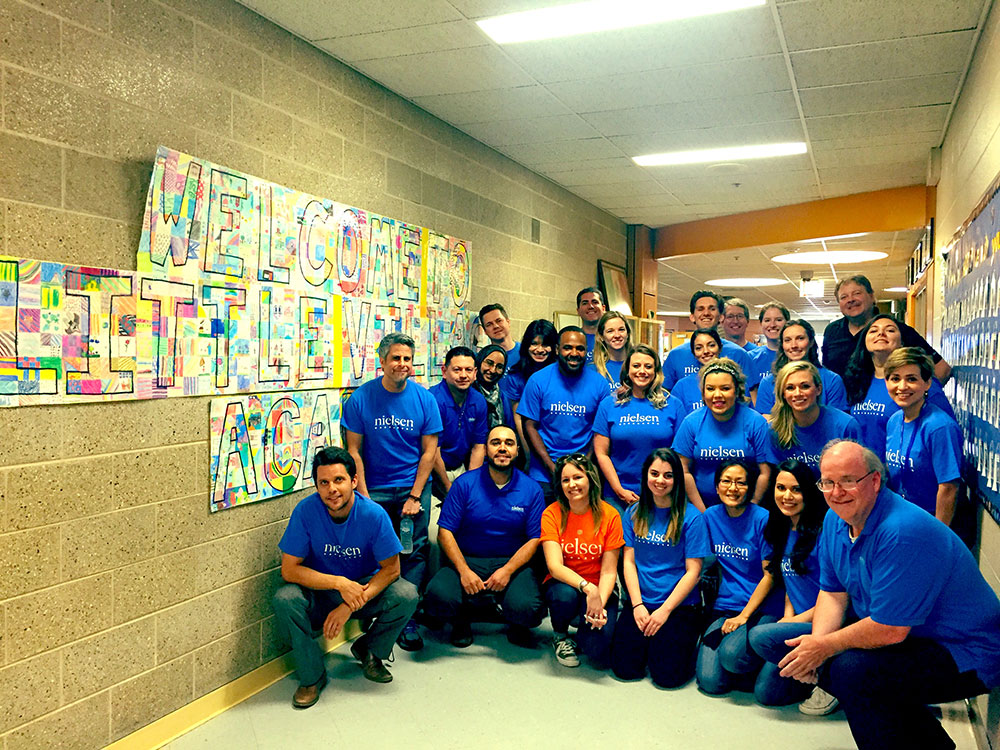 Our employee resource groups (ERG) have taken STEM (science, technology, engineering and math) education to heart and incorporated it into their community outreach activities. In 2016 alone, our ERGs hosted 11 STEM education events, engaging with thousands of students, ensuring that they take the first step in meeting the demands of an increasingly tech-proficient professional environment.
The Hispanic Organization of Leaders in Action (HOLA) ERG has performed numerous STEM education days in elementary schools across the country, bringing together leaders and associates from across the company to teach students lessons in STEM. At an event in April, leaders from 16 business areas presented a fun, interactive lesson on TV ratings to 176 sixth and seventh graders in the Chicago area. The event was the fifth in this region alone.
"Nielsen is a company full of STEM experts, and we have a responsibility to leverage our expertise for the greater good," said Amanda Wolfe, Client Manager and HOLA Midwest Lead. "We hope that by teaching students real-life applications of STEM-related skillsets before they enter the workforce, they will be inspired to pursue careers in these fields, enriching not only Nielsen, but our clients and the larger U.S. economy."
Along with HOLA, Women in Nielsen (WIN) also promotes STEM education to students. For the past two years, WIN has hosted Girl Scouts at the Global Technology and Innovation Center (GTIC) in Oldsmar, Fla., for "STEM Saturday." At the most recent of these events, close to 100 Nielsen associates facilitated engaging workshops that covered a variety of STEM topics. The Girl Scouts were taught to manage budgets, make polymers and emollients, create LED flashlights and do some basic coding, among other activities. Upon completion of four tasks, the girls earned a Nielsen STEM patch.
"There is a tremendous opportunity for greater representation of women in STEM fields," said Annette O'Malley, Director, Technology and WIN Southeast Lead. "At STEM Saturday, we're engaging with future women leaders and piquing their interest in a variety of STEM areas, so that these young women feel inspired to pursue studies and careers in these fields."
Learn more about the global presence of our employee resource groups and other Diversity and Inclusion initiatives.