If you're like most Americans, listening to the radio is part of your regular weekly schedule. In fact, 92 percent of the people in the U.S. over the age of 12 (242 million people) listen to the radio each week. But what you may not be conscious of is where and when you're most likely to tune in to hear your favorite music, news, talk or sports programming…because it depends on your employment status.
According to Nielsen's new Audio Today report, a large majority of nationwide radio listening happens outside the home by the full-time working crowd. Now, it should come as no surprise that those two factors are directly related; employed consumers are the most likely to leave the home on a regular basis during the weekday. And when they're away from home, they're more likely to use radio than during other times during the day.
Over the course of a seven-day week, 64 percent of all radio listening happens away from home, and 62 percent of the audience between the ages of 18-64 works full time. Both numbers jump even higher if you focus on the Monday to Friday work week, particularly during commuting hours (known as AM Drive and PM Drive in the radio world).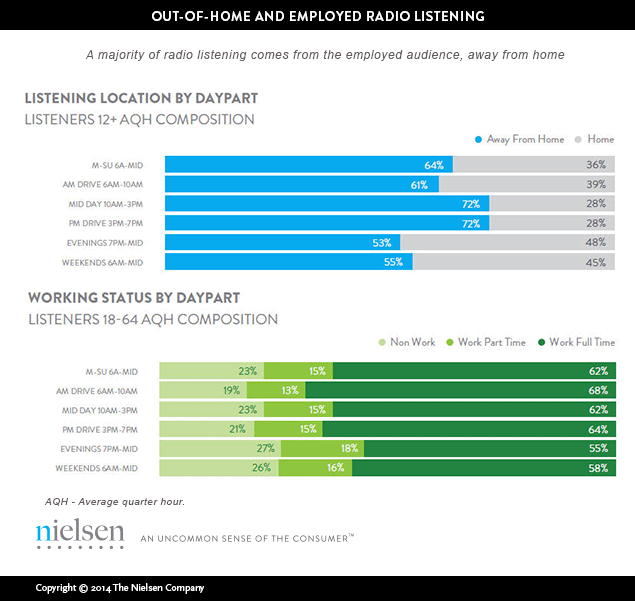 Source: Nielsen. RADAR 119, December 2013; M-SU 6AM-MID AQH Composition.