The Asian-American community is one of the most diverse communities in the U.S. encompassing numerous languages, lands of origin, and some of the country's most recent immigrants. And music has proved important to Asian-Americans, creating a bond with each other, their culture, and the broader U.S. community.
At 19 million strong, Asian-Americans represent about six percent of the total U.S. population, up 59 percent since 2000. While Asian-American's taste in music is more likely to mirror the market as a whole than other multicultural segments, emerging trends have expanded the music landscape in the U.S. driven largely by Asian consumers.
Asian-Americans' Digital Habits
Online digital music is increasingly popular with Asian-Americans. When it comes to streaming music, Asian-Americans tend to use services specific to their native languages as well as mainstream sources. Spotify, is almost twice as popular with Asian-Americans as it is with the total market, by a margin of 14.4 percent to 7.6 percent. So what devices are they using to listen to music?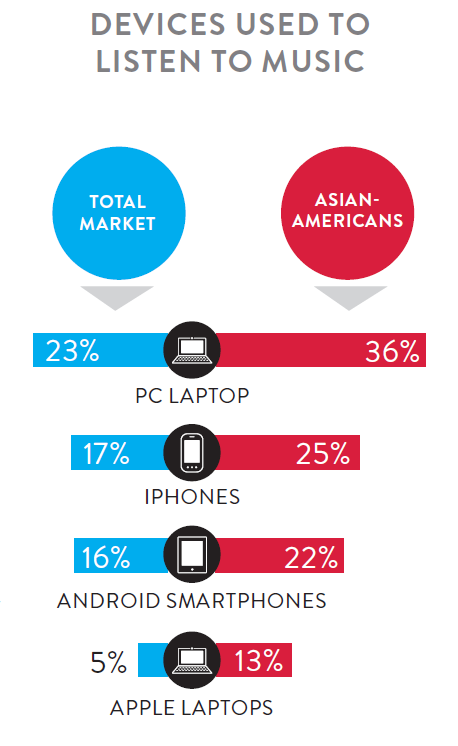 For additional insights into Multicultural music listeners, download the related reports: