Multicultural consumers are rapidly becoming the core of the U.S. population. Today, African-American, Asian American and Hispanic consumers account for more than 120 million people combined (38% of the total population). These groups are projected to increase by 2.3 million each year before becoming a numeric majority of the population by 2044, according to the U.S. Census. With expansive buying power and unique consumption habits, multicultural consumers are an emerging consumer force in the country.
And multicultural consumers can fundamentally transform categories when you consider Super Consumers. The top 10% of a category's household consumers—the "Super Consumers"—are the ones who can drive at least 30% of sales, 40% of growth and 50% of profits. They are product enthusiasts, fueled by an emotional and very often a cultural connection. With multicultural consumers disproportionately making up Super Consumers in 15 major studied categories, understanding the cultural essence that drives multicultural consumer behavior today will not only provide a clear vantage point to see future market trends—it will also help forge long-term and lucrative relationships with these growing shopper bases.
Who Are Today's Multicultural Consumers?
Hispanics will experience the most growth among multicultural consumer group in the U.S., estimated to account for over half of the country's total population growth by 2020 and nearly 85% by 2060, according to U.S. Census projections. Other multicultural groups will also make up an increasing share of the U.S. population. African-American growth will accelerate to 18% of total population growth by 2020 and increase to 21% by 2060, while Asian Americans will be responsible for 15% of total growth by 2020 and increase to 19% by 2060. Comparatively, non-Hispanic whites will be a shrinking portion of the country's population growth: This demographic will see just a 7% growth share in 2020 that will become a decline of 6% by 2030.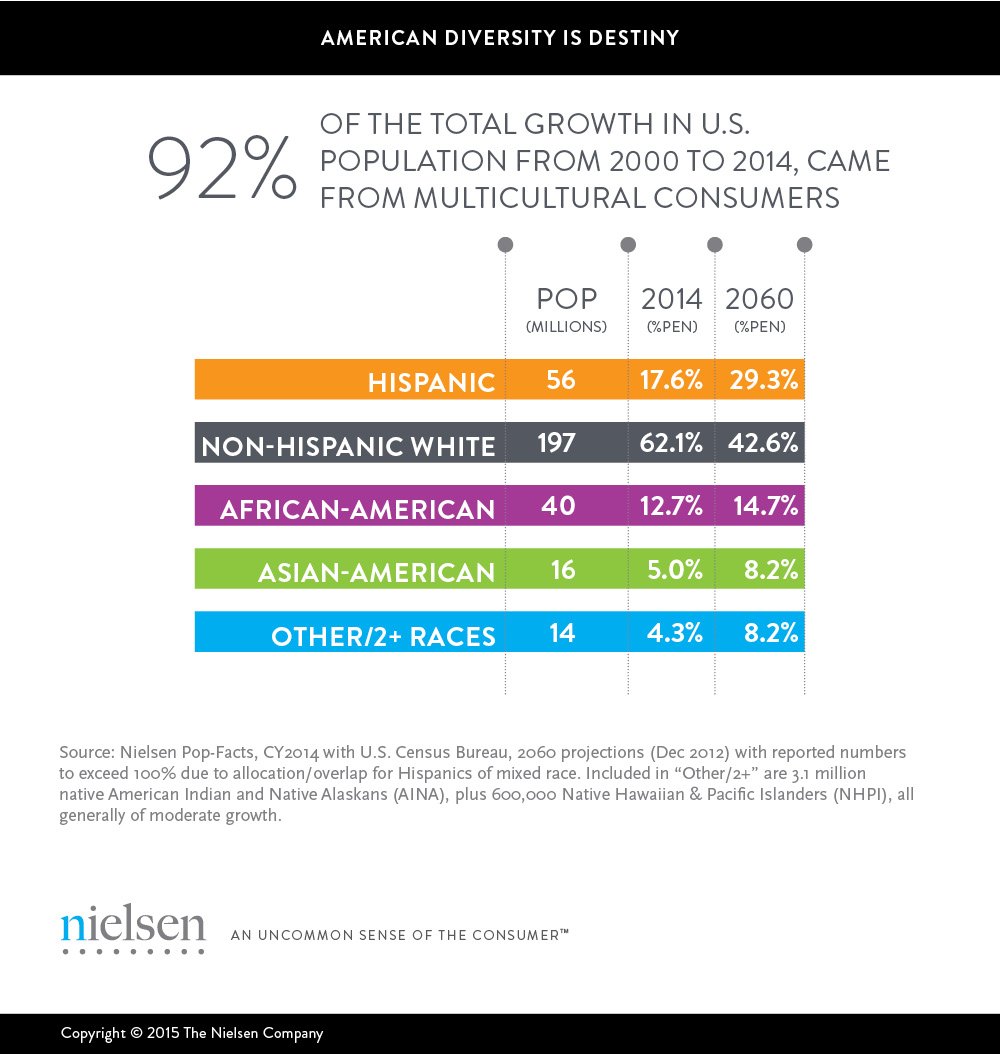 As the numbers of multicultural consumers continue to grow, so too will their purchasing power. Already, U.S. multicultural buying power is growing at an exponential rate compared to the total U.S., increasing from $661 billion in 1990 to $3.4 trillion in 2014. This is more than double the growth of total U.S. buying power.
Also, the young multicultural population will lead the way for sustained buying power growth. Last year, multicultural groups collectively represented greater than 50% of the population under age nine versus 35% of those 45-50 and 17% of those 80 or older. As a result, the effective years of buying power for African-Americans (42.3 years), Asian-Americans (52.3 years) and Hispanics (56.5 years) all exceed that of non-Hispanic whites (36.7 years).
Meet Multicultural Consumers Early and in the Right Location
As multicultural consumers continue growth in size and spending power, brands will increasingly need to integrate multicultural insights into core business strategies. In addition, marketing to Millennials and younger generations must be driven by multicultural insights, as younger age cohorts are already over 50% multicultural. Fortunately, these younger wallets present a prime opportunity for brands seeking to establish lasting, meaningful relationships with these consumers, because their life expectancy is also high. The compound effects of longer life expectancy and the younger median age of multicultural consumers present a long-term opportunity for brands that can build loyalty early on.
Finally, location is also key to reaching multicultural consumers. Today, some states with major metropolitan areas in the U.S. already have multicultural majorities—with the multicultural groups comprising over 50% of the population in Hawaii, District of Columbia, California, New Mexico and Texas. Nevada, Maryland, Georgia, Arizona, Florida and New York are also approaching majority multicultural status. Reaching and relating to these consumer groups is not just important at the national, broader level, but also at a more personal, regional and hyperlocal one.
For more a deeper look at multicultural consumers and their consumption habits from what they buy to how they use media, download Nielsen's The Multicultural Edge: Rising Super Consumers report.