International Acts Go Mainstream and Female Artists Lead the Way
Amid an array of choice when it comes to platforms and devices for media consumption, one thing remains constant: Americans' unwavering love for music.According to Nielsen, the music industry experienced significant overall growth in 2018, with total album equivalent audio consumption up 23% over 2017, driven by a 49% increase in on-demand audio song streams compared to last year. The top-streamed on-demand song (audio and video combined) is Drake's "God's Plan" with over 1.5 billion total streams, topping the Billboard Hot 100 for 11 weeks. "God's Plan" also led total song consumption (digital song sales with streaming equivalent on-demand audio) with 7.4 million units, including over 918 million on-demand audio streams. Ed Sheeran's "Perfect" was the leader in song sales with 1.3 million in permanent downloads so far this year.
Key year-end insights (through week-ending 1/3/19):
Music streaming volume continued to rise, with the total number of on-demand audio song streams reaching 611 billion in 2018, a sizable 49% increase over the same time period in 2017.
Overall on-demand music streaming volume, including video, surpassed 900 billion streams, an increase of 43% over the same period last year.
Vinyl continued to soar, up 15% over the same period last year with record-breaking sales during the week of the 11th annual Record Store Day.
Despite sharp declines in Digital purchasing, Digital Audio consumption (digital albums + track equivalent albums + on-demand audio streaming equivalent albums) was up a healthy 34%.
Four songs surpassed 1 billion on-demand streams this year, including Drake's "God's Plan", Juice WRLD's "Lucid Dreams (Forget Me)", Drake's "In My Feelings" and XXXtentacion's "Sad."
"With continued momentum, 2018 has shown no evidence of slowing music consumption with a hearty 49% increase in on-demand audio song streams compared to last year," said David Bakula, SVP Industry Insights at Nielsen Music. "We can attribute that to increased access to music with new smart speakers and connected devices that have helped catapult engagement and consumption to record highs. With the anticipation of 5G, we expect that new connected hardware and faster 'always on' connections will continue to drive consumption across all platforms and channels to keep music at the forefront of entertainment in 2019 and beyond."
Top Five Nielsen Music 2018 Year-End Trends
Latin's Top 40 Takeover
Bilingual hits were en fuego on streaming, radio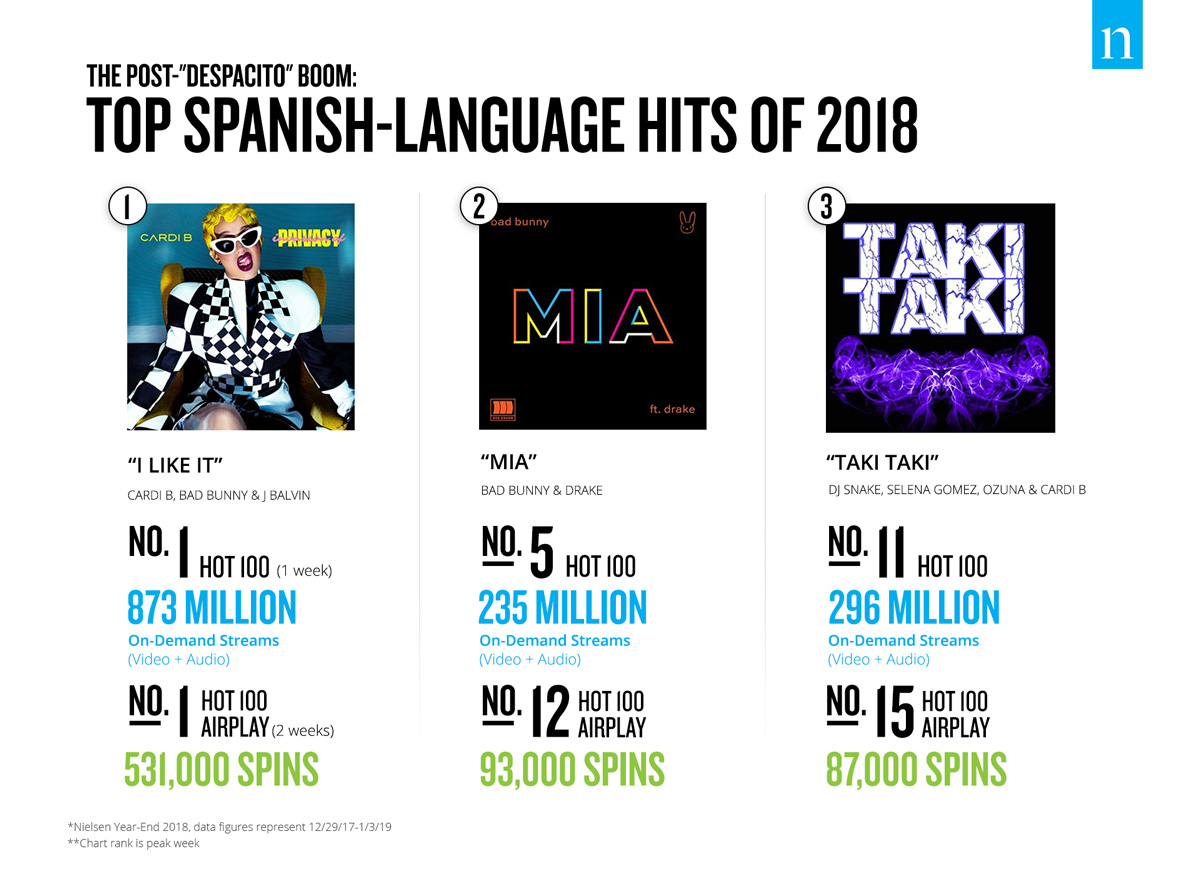 The year following the release of Luis Fonsi's "Despacito," Latin Urban and its crossover with English-language pop and hip-hop, has proven it is here to stay. In 2018, bilingual hits reached a new threshold with songs like Cardi B, Bad Bunny and J. Balvin's "I Like It" topping the Billboard Hot 100 in July (over 873 million on-demand streams in 2018) including over 531,000 plays at radio. The trend continued with crossover hits like DJ Snake, Selena Gomez, Ozuna & Cardi B's "Taki Taki" (296 million on-demand streams and 87,000 radio plays); and Bad Bunny & Drake's "MIA" (234 million on-demand streams and 93,000 radio plays), each scoring big with predominantly Spanish-language singles.
The Year of Drake
Scorpion stings chart, consumption records with multiple No. 1 hits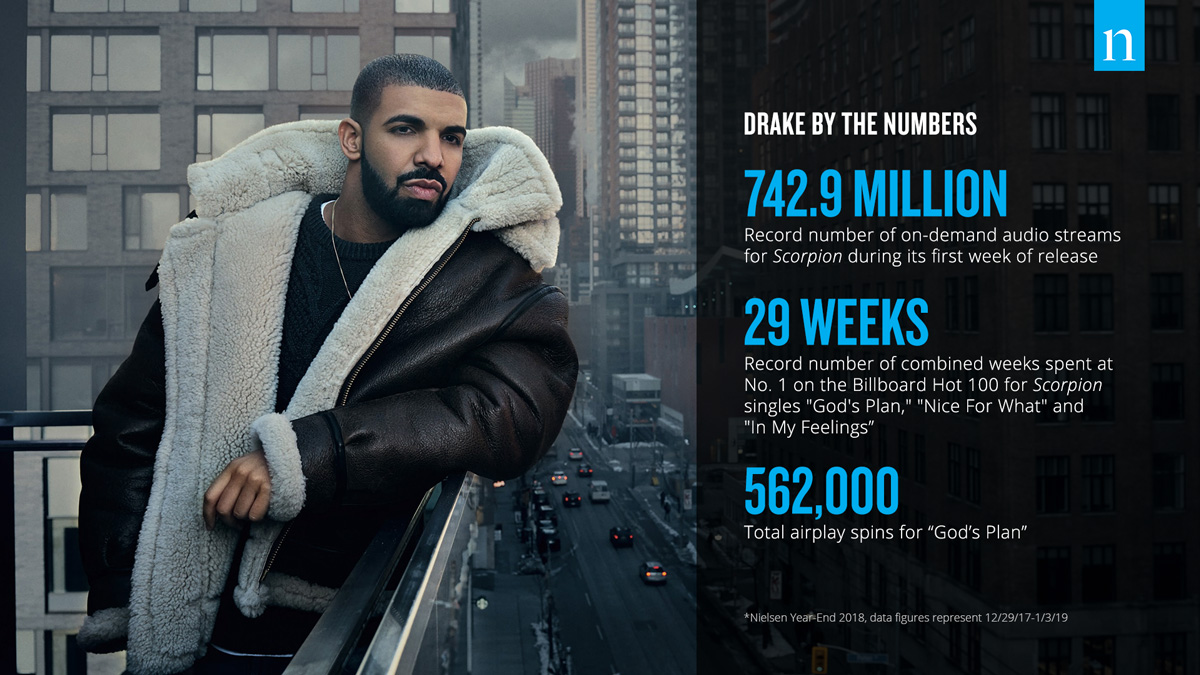 Drake's Scorpion was the blockbuster album to beat in 2018, shattering consumption and chart records. As the year's most consumed album, Scorpion shattered records during its first week with its songs earning 742.92 million on-demand audio streams, surpassing record holder Post Malone's beerbongs & bentleys, which logged 431.3 million on-demand audio streams for its songs in its first week in May.
The album's top singles, "God's Plan" (1.57 billion on-demand streams), "Nice For What" (844 million on-demand streams) and "In My Feelings" (1.1 billion on-demand streams) spent a combined 29 weeks at No. 1 on the Billboard Hot 100, surpassing Usher's 2004 record for most weeks spent at the top in a calendar year.
The Triumphant Return of Women
Female artists more than doubled the length of their chart reign in 2018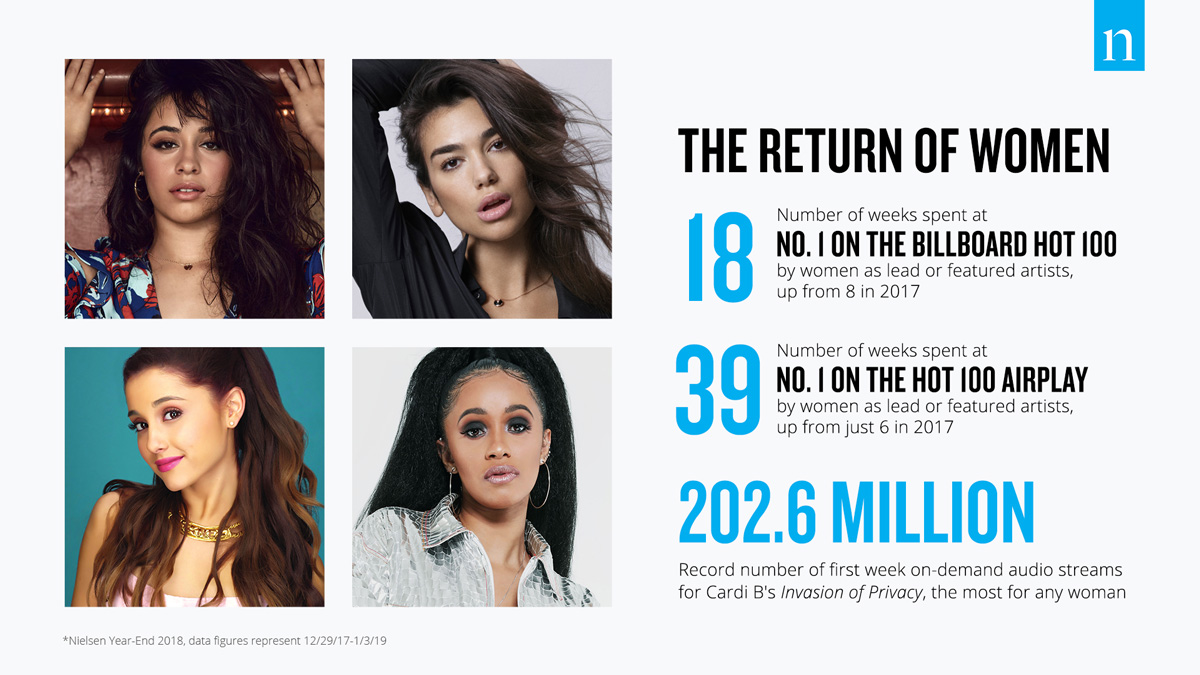 After a relatively quiet 2017 on the charts, female artists made a big splash in 2018 thanks to No. 1 hits and wildly popular singles/albums from Cardi B, Camila Cabello and Ariana Grande. Women have ruled the Billboard Hot 100 as lead or featured artists for 18 weeks in 2018, up from eight weeks in 2017.
On the heels of her first Billboard No. 1 single in 2017, "Bodak Yellow," Cardi B became the first female rapper to score two solo No. 1s on the Billboard Hot 100 with "I Like It," which was quickly followed by a third No. 1 from her collaboration with Maroon 5 for "Girls Like You" (731 million on-demand streams). Her debut album Invasion of Privacy also set the record for the most on-demand audio streams (202.6 million) ever in a debut week for an album by a woman.
Ariana Grande's Sweetener scored the largest single-week streams for a pop album by a woman upon its August release with 126.7 million on-demand audio streams for the week ending Aug. 23. Three months later, her standalone single "thank u, next" became her first-ever Billboard Hot 100 No. 1 single, buoyed by on-demand streams of over 455 million during the year.
Females also ruled the radio airwaves, with Bebe Rexha's "Meant To Be" (with Florida Georgia Line, 867,000 spins—the most played song at radio during the year), Maren Morris (featured on Zedd's "The Middle", 807,000 spins), Cardi B (featured prominently on Maroon 5's "Girls Like You," 688,000 spins, and Bruno Mars' "Finesse," 581,000 spins), Camila Cabello ("Never Be the Same" and "Havana" each surpassed 640,000 spins), Dua Lipa's "New Rules" (622,000 spins), Taylor Swift's "Delicate" (592,000 spins), and Normani's "Love Lies" (with Khalid, 573,000 spins) among the year's radio songs chart toppers.
Soundtracks Score Big
Blockbuster movies post gangbuster music sales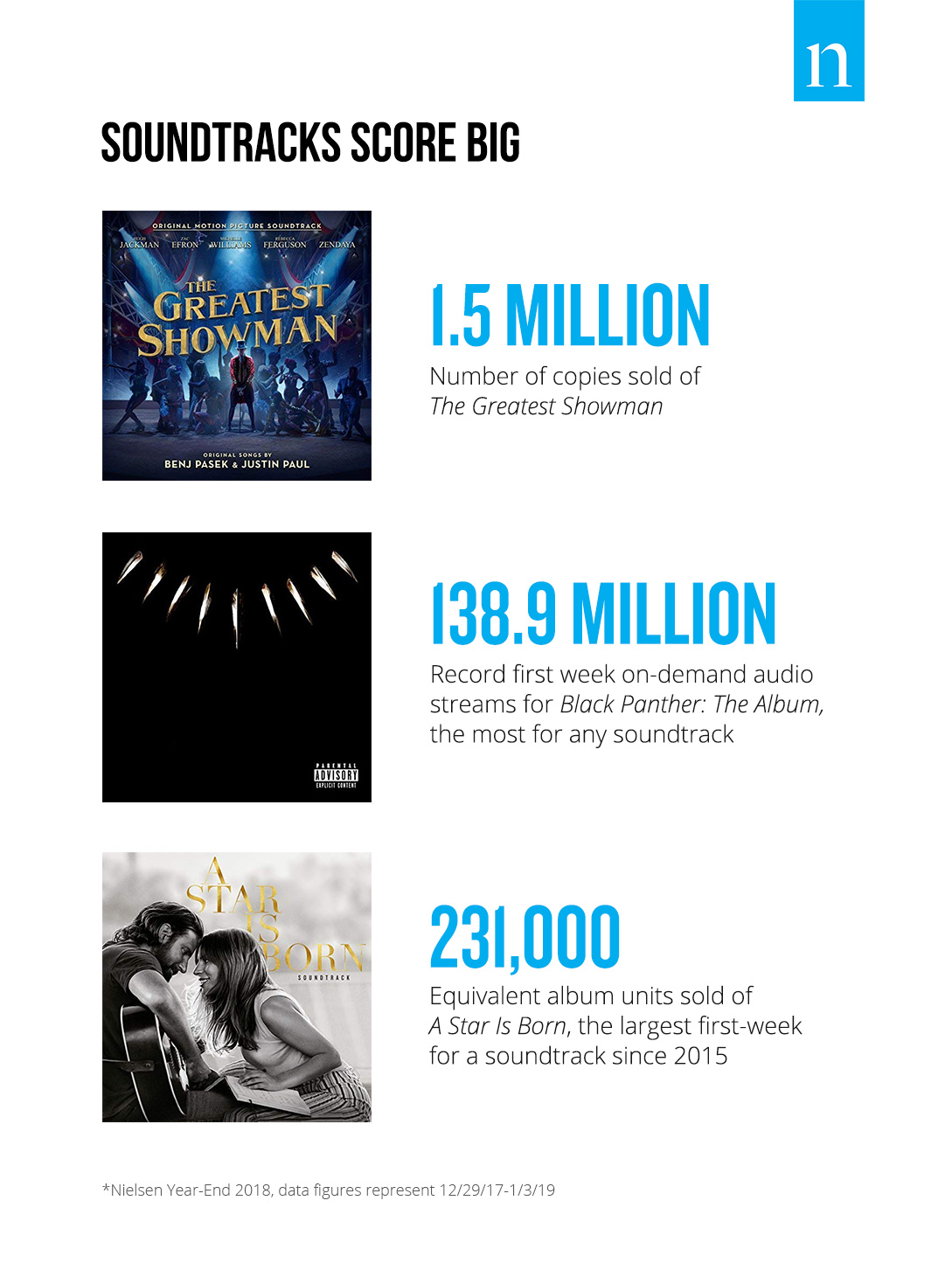 As box office receipts tallied record numbers in 2018, hit movies' accompanying soundtracks posted some of the biggest showings for the format in recent years. Even Queen saw a halo effect from the success of its Golden Globe-winning biopic Bohemian Rhapsody, which earned the band a historic return to both the Billboard 200 and Billboard Hot 100. Not only did the soundtrack become the band's first Top 10 album in 39 years, its namesake single, "Bohemian Rhapsody," became one of two songs ever to re-enter the Billboard Hot 100 for a third time in three different decades, at No. 33, with sales of 24,000 downloads and 13.3 million U.S. streams.
While a late 2017 release, The Greatest Showman became the first album to sell 1 million copies in 2018, surpassing that milestone week ending June 7. The album was the only album to sell over 1 million copies in 2018, and its yearly total of 1.5 million outsold the No. 2 and No. 3 albums combined.
Black Panther: The Album, curated by Kendrick Lamar, scored the most streams ever in a single week for a soundtrack (for the week ending Feb. 15), with 138.9 million on-demand audio streams for its songs. The set is led by The Weeknd's "Pray For Me" (309 million on-demand streams) and SZA & Kendrick Lamar's "All The Stars" (455 million on-demand streams).
Starring Lady Gaga and Bradley Cooper, A Star Is Born posted the biggest week for a soundtrack in three and a half years, with a debut of 231,000 equivalent album units earned. The set is the second best-selling album of 2018, with sales exceeding 700,000 and has surpassed 1.1 million in album equivalent consumption when including track sales and on-demand audio stream equivalents.
K-Pop Boom Reaches New Heights
BTS leads record chart representation, consumption, and social activity for Korean acts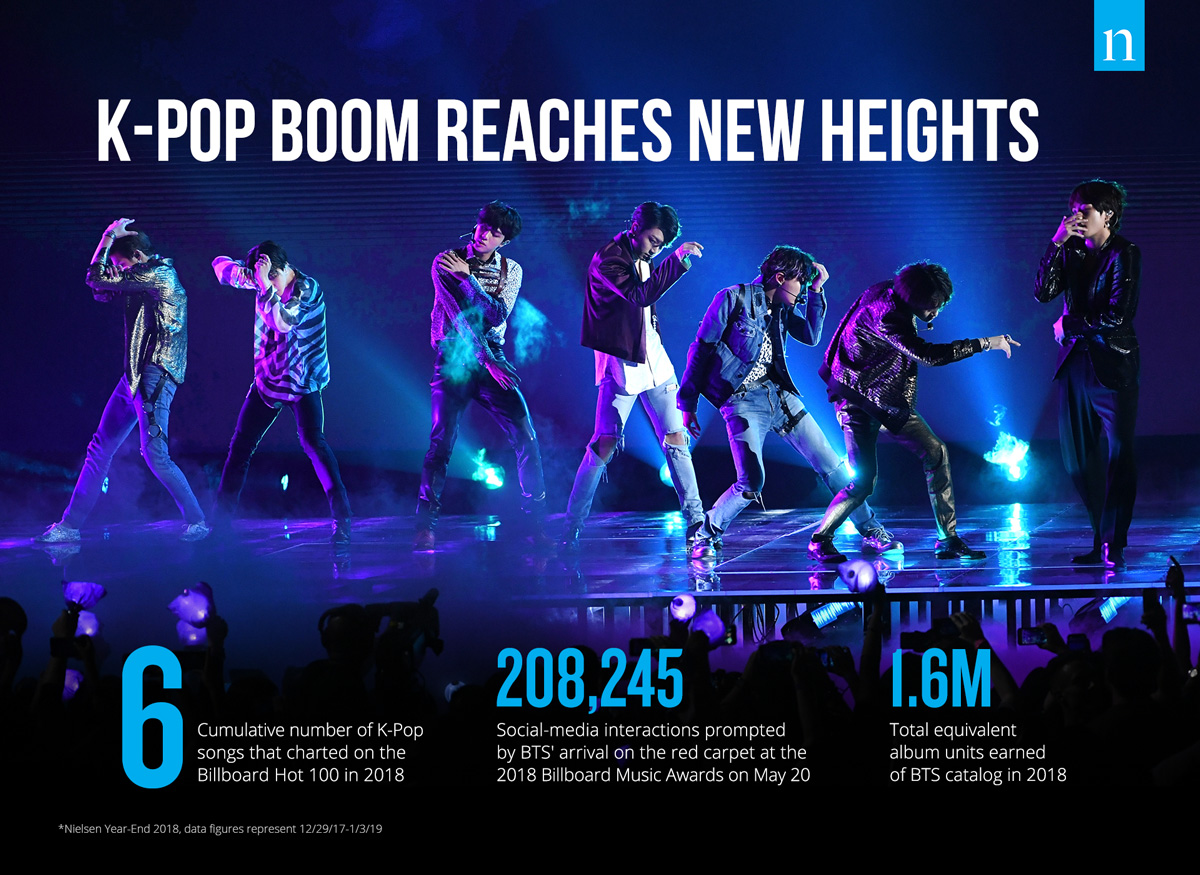 Social-media phenomenon BTS translated their massive online-following to chart success in 2018, with September's Love Yourself becoming the band's second album to debut at No. 1 on the Billboard 200, with 185,000 equivalent album units. But for the first time ever, songs by multiple K-Pop acts achieved success on the Billboard Hot 100 and other charts, suggesting the K-Pop revolution may have only just begun.
BTS captured the three most-talked-about moments on Twitter during May's Billboard Music Awards. The band's arrival on the Red Carpet prompted 208,245 interactions on Twitter, followed by the members' meeting with Tyra Banks (135,029) and the band's win for Top Social Artist (128,479).
Korean girl group BLACKPINK scored their first two Billboard Hot 100 entries with June's "Ddu-Du-Ddu-Du" (113 million on-demand streams for the year) and November's Dua Lipa collaboration "Kiss and Make Up" (41 million on-demand streams in 2018). "Ddu-Du-Ddu-Du" also became the highest-charting single (No. 55) by an all-female K-pop group ever on the Billboard Hot 100.
In November, all-male K-Pop outfit EXO became the third Korean band to score a Top 40 album on the Billboard 200 with Don't Mess Up My Tempo, debuting at No. 23 with sales of 23,000 equivalent units.
Note
The term "total album equivalent consumption" describes the number of physical and digital albums that were sold and the total number of album equivalent songs from downloads and song streaming volume. For the sake of clarity, the definition of album equivalent consumption does not include listening to music on broadcast radio or digital radio broadcasts. Unless otherwise noted, all numbers are volume.