Growth with the internet, out of home and cinema
DIEMEN – October 19, 2015 – Despite the economic recovery, net media spending in the Netherlands fell slightly in the first half of 2015 by 0.9% to €1.78 billion. Internet, out-of-home and cinema saw advertising revenues increase, all other medium types had to deal with declining media spending in the first six months of 2015. This is apparent from the Half-Year Report Netto Media Spending 2015 that Nielsen will be publishing shortly.
The development of net media spending in the first six months of 2015 was at odds with the economic recovery, which recovered under the impulse of a falling oil price. Consumer spending increased as a result, which translated into positive consumer confidence. Producer confidence was already positive. The economic recovery was driven not only by exports, but also by growing consumption, picking up business investment and a strong recovery in key sectors such as construction and the housing market. Despite this, advertisers' media budgets shrank.
The increase in net media spending on the Internet somewhat obscured the development of the total market. Although Internet growth was half the rate at 7% compared to the same period a year earlier, without the Internet, total net media spending would have fallen by more than 5%. Television and radio were partly to blame for this. Both experienced a very positive first half of 2014 with strong growth of 6.7% and 8.5% respectively. In the first half of 2015, that picture suddenly looked very different: television lost more than 4%, radio even almost 5%.
Print media stayed in the corner where the blows fall. Newspapers saw advertising revenue fall by more than 8%. This is less than the drop of almost 14% in the same period last year. Public magazines also had to see again that advertisers reserved less budget for print advertisements. At 8.5%, the decrease was slightly less than a year earlier (-10%). At -12.5% door-to-door papers saw a sharp decline in advertising spending, as in previous years.
Out of home, on the other hand, recorded an increase in net media spending for the fourth half year in a row. After the increase of 3% in the first six months and 4.5% in the second half of 2014, growth also continued in the first half of 2015: 4.6%. By far the largest growth occurred at cinema with more than 50%, thanks in part to the strong 12% increase in cinema attendance and two major Dutch productions (Gooische Vrouwen 2 and Michiel de Ruyter).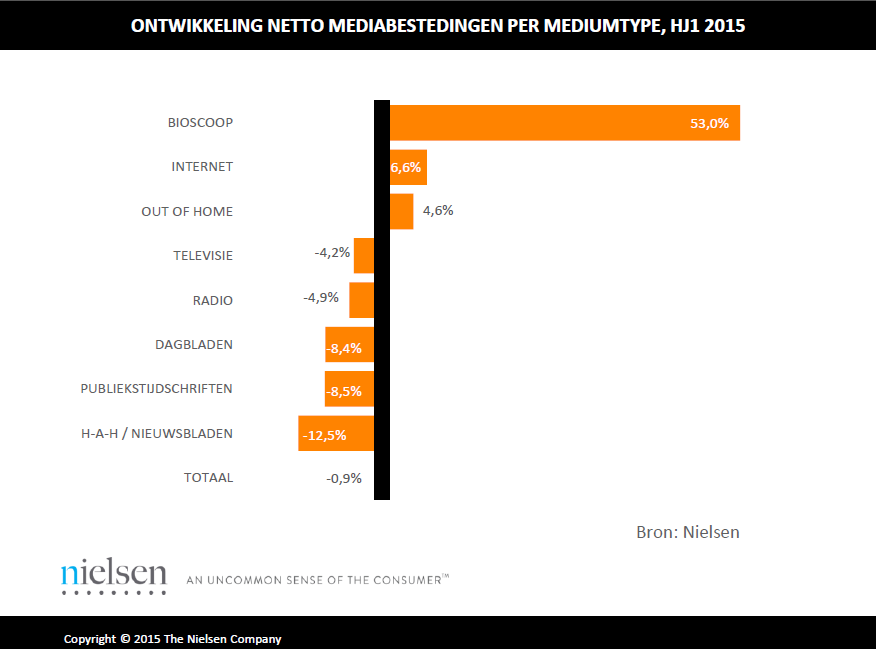 About the research into net media spending
To calculate net media expenditure, Nielsen conducts research twice a year among publishers and media operators in the Netherlands. It asks for a statement of the net advertising income for the year in question. Nielsen aggregates these statements to a total figure per medium type. Where necessary, figures are weighted and extrapolated to provide as complete a picture as possible of the actual size of net media expenditure per medium type and of the market.
The net media expenditure for the first half of 2015 and the comparison of this with that of the first half of 2014 are based on the following medium types: television, radio, cinema, internet, daily newspapers, h-a-h magazines, public magazines and out of home.
Over Nielsen
Nielsen Holdings plc (NYSE: NLSN) is a global performance management company that provides insights into consumer viewing and purchasing behaviour. Nielsen's "Watch" division provides viewing and listening measurement services to media and advertisers for all devices on which content – video, audio and text – is consumed. The "Buy" division offers manufacturers and retailers of consumer packaged goods the industry's only global view of retail performance measurement. By integrating information from both segments with other data sources, Nielsen provides its customers with measurements and analytics that help improve business performance. Nielsen, an S&P 500 company, is active in more than 100 countries, representing more than 90% of the world's population. For more information, visit www.nielsen.com.
CONTACT: 
Berry Punt, berry.punt@nielsen.com
####