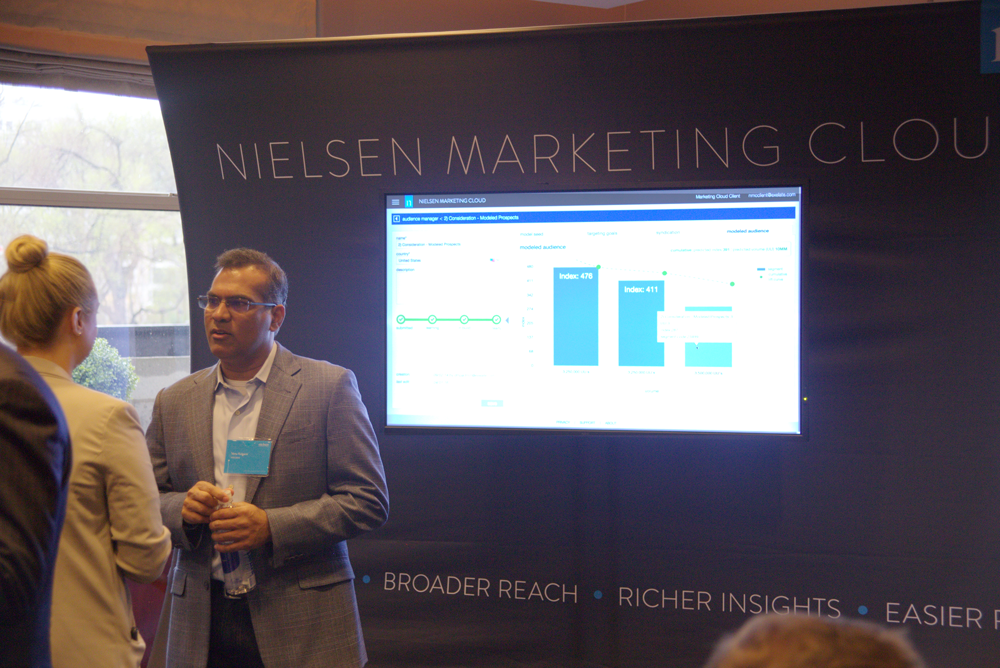 We are arguably in the midst of the most complicated and exciting time for media and advertising. Continuous innovation across TV, over-the-top TV, online, mobile, and gaming consoles has changed the way consumers are allocating their time and their attention. And data has never been more available to help inform and guide brands thanks to all these advancements. But new technologies also mean new sources of data that must be parsed out and understood. Making sense of all this data together is one of the biggest challenges brands face.
To help clients across industries connect the dots between data, we've launched Nielsen Marketing Cloud. The new solution integrates Nielsen's customer data management, analytics, media planning and activation applications into a single platform to help brands reach consumers more efficiently and media companies sell more effectively.
To formally introduce the product to clients, prospects, and the media we hosted a client-centric launch event in New York City that attracted close to 300 attendees.
Mark Zagorski, executive vice president of the Nielsen Marketing Cloud, kicked off the show explaining how data is the fuel that drives marketing engines. But data is just the first step clarified Megan Clarken, president of product leadership for Nielsen. The data synergies from Nielsen Marketing Cloud facilitate a deeper understanding of consumers and audiences, more effective one-to-one messaging, and superior ROI analysis and campaign optimization.
To give event attendees deeper insight into the opportunities Nielsen Marketing Cloud presents, Damian Garbaccio, executive vice president of the Nielsen Marketing Cloud, and Lynda Clarizio, president of U.S. media at Nielsen, led thoughtful panel discussions with marketing executives and analytics experts from industry-leading brands, agencies and media companies. Many of the panelists described how they are already leveraging applications within the Nielsen Marketing Cloud, such as our Data Management Platform (DMP) and Multi-Touch Attribution (MTA), to inform and optimize their marketing programs and attain better ROI.
The panelists also discussed data management and analytics strategies they currently employ to get the most out of Big Data—such as employing creativity throughout the audience segmentation and targeting process—as well as the challenges they face trying to manage data across multiple and completely independent platforms.
"Never before has data played a more important role in driving marketing efficiency, but the complexity of centrally managing and employing this data has grown as well," said Zagorski. This was a sentiment that resonated with the panelists, who often used the word "silos" to characterize the various data management solutions they employ to manage their consumer data.
"We believe our clients should know more about their customers than anyone else," said Garbaccio. Our foray into the marketing cloud space is a strategic step towards putting the power back into the hands of our clients. With this platform, brands, agencies, and media companies can activate and analyze first- and third-party data in one place to derive richer consumer profiles across channels. As a result, they can spend less time connecting the dots, and more time making decisions that drive bottom-line results.
Mark Zagorski closed out the show by reinforcing that marketing programs are only as good as the quality of the data that powers them, and high-quality data fuels the Nielsen Marketing Cloud. Data is the difference, and no one provides more trustworthy data at scale than Nielsen.