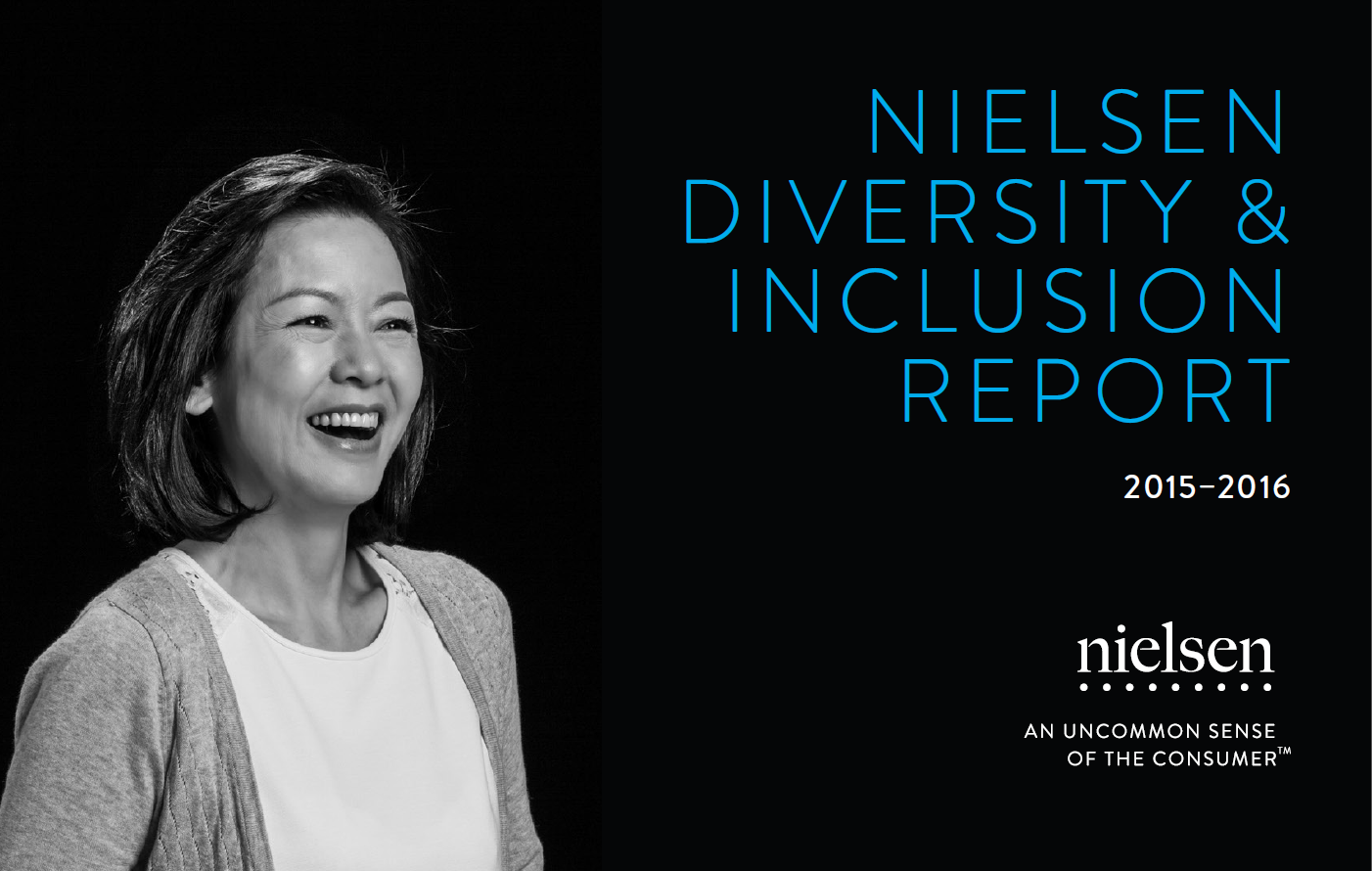 2016 has been an important year for diversity and inclusion at Nielsen. Since the year kicked off with the appointment of Angela Talton as Nielsen's Chief Diversity Officer, a host of research, events and awards focused on our work around diversity and inclusion have followed. Today, we released our first Diversity & Inclusion Report, which provides a comprehensive look back at the work done from 2015 to date reflecting Nielsen's investment in and commitment to global diversity.
"As a data measurement company, Nielsen is committed to reflecting the diversity of the communities where we live and work and to sharing not just metrics but also insight into why consumers behave the way they do," said Angela Talton. "We are proud to not only commemorate the strides we've made as a company over the past decade, but to outline our progress in the last few years to infuse Diversity & Inclusion into the DNA at Nielsen. From tracking and trending representation, retention and developmental opportunities to providing thought leadership and mentoring to diverse suppliers, Nielsen is committed to sharing the impact and importance of the population shifts we see around the globe. We also want to help our clients connect the dots between diversity, inclusion, innovation and superior results."
Key areas of successes to date highlighted in the report include:
To ensure the entire organization "speaks the same language" and understands that diversity and inclusion is a global business imperative for Nielsen, 93% of Nielsen's people managers in 66 countries have received foundational Diversity & Inclusion training, 'Managing an Inclusive Work Environment,' in partnership with a minority-owned diverse supplier.

In 2015, members of Nielsen's eight employee resource groups (ERGs), contributed over 5,000 volunteer hours at more than 1,400 events, partnering with over 800 organizations.

Nielsen's diverse leadership network (DLN)—an 18-month leadership development program designed to grow, mentor and challenge high-potential associates—had a 100% retention and movement of program graduates to new roles within the company.

Nielsen's talent acquisition team implemented reporting for the requirement that a diverse slate of candidates are considered for all open positions in North America

In 2015, Nielsen's community alliances team sponsored more than 200 community organizations' events, building upon the company's efforts to increase brand awareness in diverse communities across the U.S. Interaction with consumers at these events has led to the accumulation of a database of more than 150,000 consumers, which Nielsen data teams use to supplement household samples.

Nielsen continues to release diverse intelligence series (DIS) reports, including three in 2015, two so far this year on each Asian-American and Hispanic consumers, one launching later this month on African-American consumers, as well as new insights on people with disabilities.

Nielsen's diverse supplier spend in 2015 reached $75 million, representing a 24% year-over-year increase and 8% of Nielsen's total sourceable spend.
The report also outlines Angela Talton's vision for Diversity & Inclusion at Nielsen in 2016 and beyond. This vision is built around connecting the dots between the population shifts and consumer buying power, as well as identifying products and services, with clients, that are more appealing to these consumers, thus creating favorable financial outcomes for Nielsen's clients. The 2016 Diversity & Inclusion midyear metric report suggests this year will be incredibly successful. Racial/ethnic and gender diversity have both increased over 2015, and the rate of racial/ethnic and gender diversity in senior management outpaces the average for DiversityInc's Top 50 companies. Additionally, the report highlights how Nielsen has been recognized for its Diversity & Inclusion programs, including being named one of the 2016 Best Places to Work for Disability Inclusion by scoring 90% on the Disability Equality Index® (DEI), being named one of the best employers for Millennials by Fortune and Great Place to Work, earning the No. 4 spot on Diversity MBA's 2016 rankings of "Best Places for Women & Diverse Managers to Work", earning the No. 41 spot on DiversityInc Top 50 list and many others.
"Diversity & Inclusion are crucial to Nielsen's growth, strength and ability to innovate," says Mitch Barns, Nielsen's Chief Executive Officer. "At Nielsen, we have proven that diversity of talents, skills, experiences and cultural backgrounds make our company stronger, and I am proud that our company's culture of inclusion is being recognized globally."
To learn more, download a copy of the Diversity & Inclusion report.