Sydney, Australia – 27 April 2016 – The start of the sporting season has driven audiences online Nielsen's March release of Digital Ratings (Monthly) reports, the IAB endorsed digital audience measurement currency. Digital Ratings Monthly gives the market Australia's total digital audience, unduplicated, across PC, smartphone and tablet for both web browsers and apps.
March marked the beginning of the winter sport season resulting in significant increases in audiences across the sports subcategory. The Formula One Championships, V8 Supercars, AFL and Cricket ICC World Twenty20 all drove up sport audiences across desktop, smartphone and tablet. Unique audience numbers for the sports sub-category saw an 8.3% uplift month on month, from 10.3 million to 11.1 million.
The top five winners in the sub-category were Telstra Media AFL, ESPN Digital Network, FOX SPORTS, Telstra Media NRL and news.com.au – sport, all with unique audience increases in March, and most increasing by over a third. Additionally, several entities saw triple digit growth thanks to the start of the season including Grandprix.com.au, VirtualSPORTS.com.au, Footytips, V8 Supercars and ESPN Footytips.com.au.
Several major events around the country also caused increases in unique audience to relevant sites in March. The Sydney Royal Easter Show saw the biggest increase of 243% increase from 231,000 to 793,000 as Sydneysiders bought tickets and organised their trip to the show. Ticketmaster and Ticketek also saw double-digit gains, sitting at 2.3 and 1.9 million unique audiences respectively
CURRENT EVENTS & GLOBAL NEWS SUB-CATEGORY
Ranking for the top three news services current events and global news sub-category remained the same.
In news apps, the BBC News App increased by 144% in March, and The Guardian is the leader in the current events and global news sub-category app rankings followed by BBC and 7NEWS.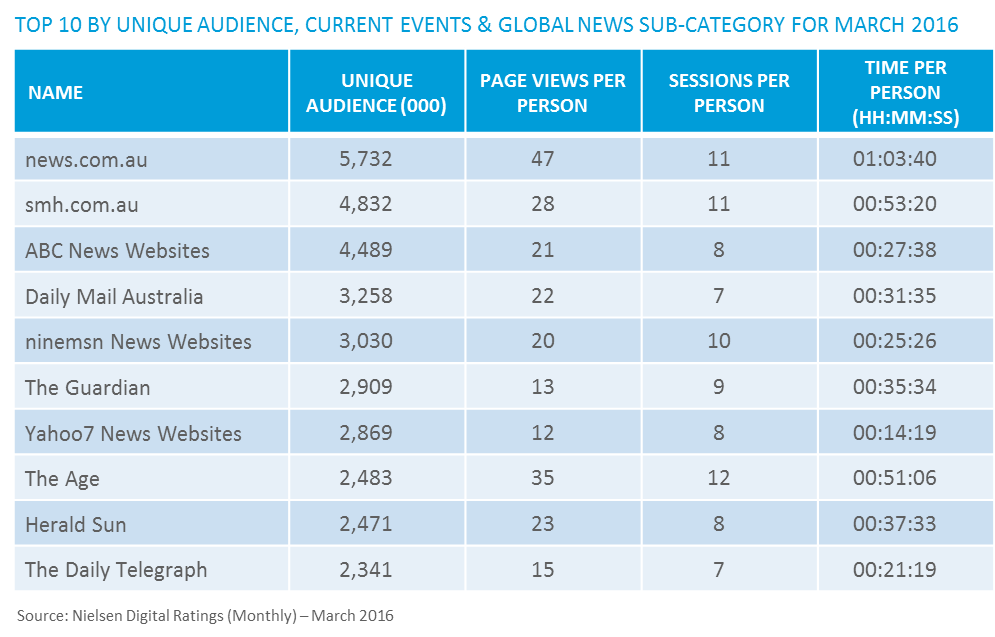 Digital Ratings (Monthly) fuses together Nielsen's pre-existing PC panel for home and work with nationally representative panels of Australian smartphone and tablet internet users, as well as census tagged data for PC and mobile web. It provides an independent, cross-device view of the total digital audience.
The data allows publishers, who are already investing significantly in mobile, to see how their audiences have grown across all digital devices.  It also enables agencies and advertisers to make more accurate decisions and gauge the reach of their digital investment – giving a true picture of their total audience across key digital devices.
About The Interactive Advertising Bureau
The Interactive Advertising Bureau (IAB) Limited is the peak trade association for online advertising in Australia and was incorporated in July 2010. As one of over 43 IAB offices globally, and with a rapidly growing membership, IAB Australia's principal objective is to support and enable the media and marketing industry to ensure that they thrive in the digital economy.
The role of the IAB is to work with its members and the broader advertising and marketing industry to assist marketers to identify how best to employ online as part of their marketing strategy, to better target and engage their customers and build their brands.
By addressing the core pillars of growth of the online advertising industry – simplified and standard online audience measurement, research, and online operational standards and guidelines, and regulatory affairs, IAB Australia leverages the skills, experience and commitment of its members to advocate the benefits of online advertising by acting as an authoritative and objective source for all online advertising issues whilst promoting industry-wide best practice.
IAB Australia is a registered not-for-profit organisation; membership fees and revenue generated is invested back into the IAB's membership benefits such as resources, events, reporting, and industry representation.
For further information about IAB Australia please visit: www.iabaustralia.com.au
ABOUT NIELSEN
Nielsen N.V. (NYSE: NLSN) is a global performance management company that provides a comprehensive understanding of what consumers Watch and Buy. Nielsen's Watch segment provides media and advertising clients with Total Audience measurement services across all devices where content — video, audio and text — is consumed. The Buy segment offers consumer packaged goods manufacturers and retailers the industry's only global view of retail performance measurement. By integrating information from its Watch and Buy segments and other data sources, Nielsen provides its clients with both world-class measurement as well as analytics that help improve performance.  Nielsen, an S&P 500 company, has operations in over 100 countries that cover more than 90 percent of the world's population. For more information, visit www.nielsen.com
For further information please contact:
Sarah Corry
Tel: 0450 803 881
Email: scorry@iconinternational.com.au