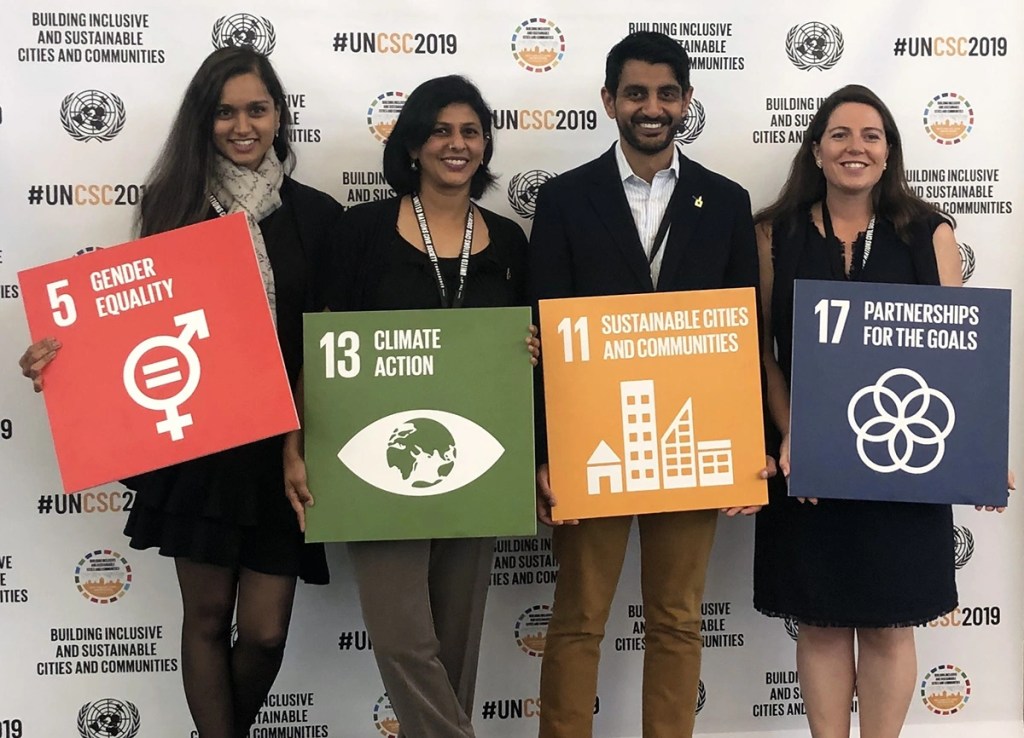 8 billion: That's the projected global population by 2030. It's a staggering figure, and it poses massive challenges for the entire world. But perhaps the most urgent question is a very simple one: How does this growing global society sustain itself? As basic as the question is, it covers wide-sweeping facets that affect daily life everywhere—the availability of food, clean water, safe shelter, access to natural resources—needs that vary wildly around the globe, complicating the world's challenges exponentially as our population continues to grow.
So how do we plan ahead to preserve and improve these outcomes while we still can? That question took center stage during the 68th United Nations Civil Society Conference, held Aug. 26-28 in Salt Lake City, Utah. With a focus on building inclusive and sustainable cities and communities (Sustainable Development Goal 11), the conference gave Nielsen an opportunity to discuss the role of professional services businesses in identifying and driving innovative solutions toward this urgent global goal. Within the event, the "How to Sustain a Global Population of 8 Billion" panel, hosted by The Demand Institute, addressed how emerging technologies and collaborations can shape long-term human needs planning.
"This panel was a great opportunity to bring in organizations to discuss the importance of public-private sector collaboration and the role of data and technology in achieving the Sustainable Development Goals," said Sarah Cummings, Manager at The Demand Institute.
Yamini Dixit, Director, Global Responsibility & Sustainability at Nielsen, kicked off the panel discussion by sharing highlights from Nielsen's ESG (environmental, social, governance) journey, and our ongoing effort to be judicious in how our actions lead to socio-environmental impact in the communities we operate in. Speaking to Nielsen's holistic sustainability approach, from internal footprint, to our grassroots efforts and stakeholder focus, Yamini emphasized on the importance of creating a ripple effect across our value chain to drive true impact. And to ensure success in this space, she also shared how Nielsen continues to create honest and open spaces for engagement with the partners, and extends the expectation of sustainable commitments to all to the table.
In particular, Yamini highlighted that Nielsen's presence as a long-standing data and measurement company affords us the unique ability to help change the sustainability story for the clients we support. And with that in mind, she spoke about the ever-evolving and expanding definition of "sustainability," our role as the data company to build insights that help our clients adapt to the changes, as well as understand evolving consumer preferences and actions.
"But our role doesn't end there," she said. "We have the potential to make a wide-ranging impact in how sustainability plays out in the communities and cities we exist in. Let us not forget the power of our consumer in the story—we enable them to fulfil their own expectation of sustainable living, building healthy environments, and 'doing right' by their communities. In addition, these data measurements and our innovative attitude towards digitizing our solutions, can be key to predicting some of the changing needs of the growing population served."
Importantly, addressing the wide spectrum that sustainability can mean, Yamini stressed on the the new narrative in Nielsen's journey toward environmental justice and expanding the framework of climate change beyond its physical effects, to the ethical and political aspects; acknowledging its impact on areas of sustainability: social justice, gender equity, human rights, collective rights, etc.
"The concept of sustainability is at the core of our existence—to sustain, live, evolve, and hopefully, thrive," said Yamini. "Ultimately, the word defines itself. And when we connect the dots to look at environmental justice, we find ourselves at the powerful nexus of social, environmental and ethical change, where true sustenance sits."
As a closing, Yamini ensured we brought the story back to the "power of one," and how change starts with one thought, one action and one impact. "Everything starts with an individual," she said "Let us not forget our governments are made of people, policies are voted on by individuals, bills are proposed per someone's ideology, and activists rise to protect what is of value to them—change belongs to each of us, and when we come together to build an inclusive and sustainable community, no one gets left behind!"
Pictured above: Yamini Dixit from Nielsen (second from left), joined by Samira Khan from Salesforce.org, Amit Patel from Accenture and Sarah Cummings (far right) from The Demand Institute, for a panel discussion at UN Civil Society Conference.