Cars are big business, and as technology continues to permeate our lives, the auto industry is broadening its revenue base by tapping into consumers' desire to stay connected from behind the wheel. The industry is also amplifying an array of connected car options across a swath of TV ads. And when you consider how personal a car purchase is, new connectivity features are helping automakers personalize content for everyone, from working moms in need of hands-free talk to twenty-something singles looking to score reservations at the local hotspot.
Regardless of tech preference, however, the modern car offers some form of connectivity for everyone—and that appeal is growing.In fact, of the 44% of future auto intenders who plan to purchase a new car within the next two years, 39% are very likely to purchase a connected car with built-in features. So what's the draw? In most cases, it comes down to having what's cool: 60% of future auto intenders say they'd like a connected car because they want to experience emerging technologies, 58% feel it will provide entertainment to passengers while on the road, and 43% say it will boost their productivity while they're on the road.
The rise in connectivity options—whether for getting directions or checking engine diagnostics—also presents a unique opportunity for advertisers and marketers to reach consumers in the comfort of their own cockpits.
So who is the connected car user?
The study found the majority are men (58%), 42% are age 55+ and 62% have at least a college degree and 37% made more than $100,000 per year. More still, is the added convenience that connected cars can afford to drivers who spent ample time in their vehicles. In fact, 37% of connected car users say they spend 30 minutes to an hour in their cars on a regular basis.
Connected Safety: Alert Today, Alive Tomorrow
While money can't always buy complete protection, connected cars can do a lot to bridge the gap. Safety is a predominant value among consumers and, as Nielsen's study found, it's among the highest-ranking features incentivizing them to buy a connected car. Among future intenders, 79% said they believe a vehicle's safety features will make them feel safe. Users of connected car technologies also value crash notifications (64% very important), Internet-enabled navigation (58% very important) and safety alerts (51% very important). Connected car consumers also rated these same features as most important in their car-buying decision-making processes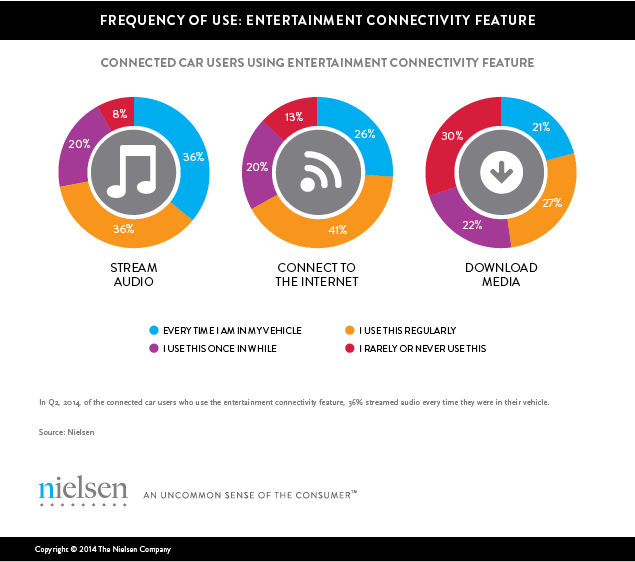 Hot Wheels: Information and Entertainment
But connectivity isn't just about safety. It can be fun and informative too. In fact, according to Nielsen's latest Music 360 report, nearly one-fourth of all music listening each week happens behind the wheel. Forty-six percent of connected car users use driving analytics, and 41% use wireless hotspots every time they're on the road. They also connect for entertainment about one-third of the time. In Q2 2014:
36% of connected car users streamed audio every time they were in their car (36% stream regularly)
26% say they connect to the Internet every time they're in their car (41% connect regularly)

21% use their connectivity to download media every time they're in their car (27% do so regularly)
There is a slight gender divide when it comes to hot spot connectivity. In fact 74% of men and 84% of women whose connected cars came with built-in wireless hotspots say that using their car as a wireless hotspot is a somewhat or very important connected car technology.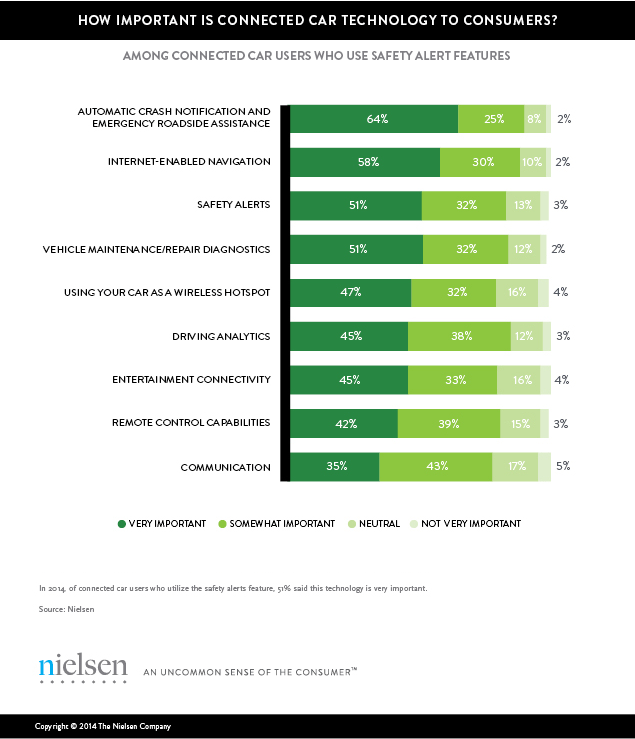 Methodology
The insights from Nielsen's Connected Life Report were gathered from a general population sample 18+ years old and consist of 5,985 respondents who either use or are extremely, very, or somewhat interested in at least one of the three connected life technologies—connected home, car and/or wearable technology. Respondents completed an online, self-administered survey in late May and early June 2014. This is not representative of the entire U.S. population.