It's no secret that when it comes to politics, passions run high—among the candidates, as well as the potential constituents themselves! And this year's election cycle so far has been especially heated, with ardor amped up and political intrigue at what seems like all-time highs.
With the debate season in full swing, a Nielsen analysis looked at how these primetime primary events are reaching viewers and if viewers have already drawn the divide between party affiliation in regard to viewing the debates.
The analysis focused on viewers who may be one party's debate devotees—exclusively tuning into either the Republican or Democratic discourse—as well as viewers who tuned in to both debates.
Overall, the first 12 debates—six each for both the Republican and Democratic events—reached 97 million Americans, with about equal numbers watching the Democratic debates (68 million) as those that watched the Republican debates (67 million).
The analysis found that about 30.2 million viewers watched only the Democratic debates while roughly 29.2 million viewers only viewed the Republican debates. Additionally, 37.8 million viewers watched both debates.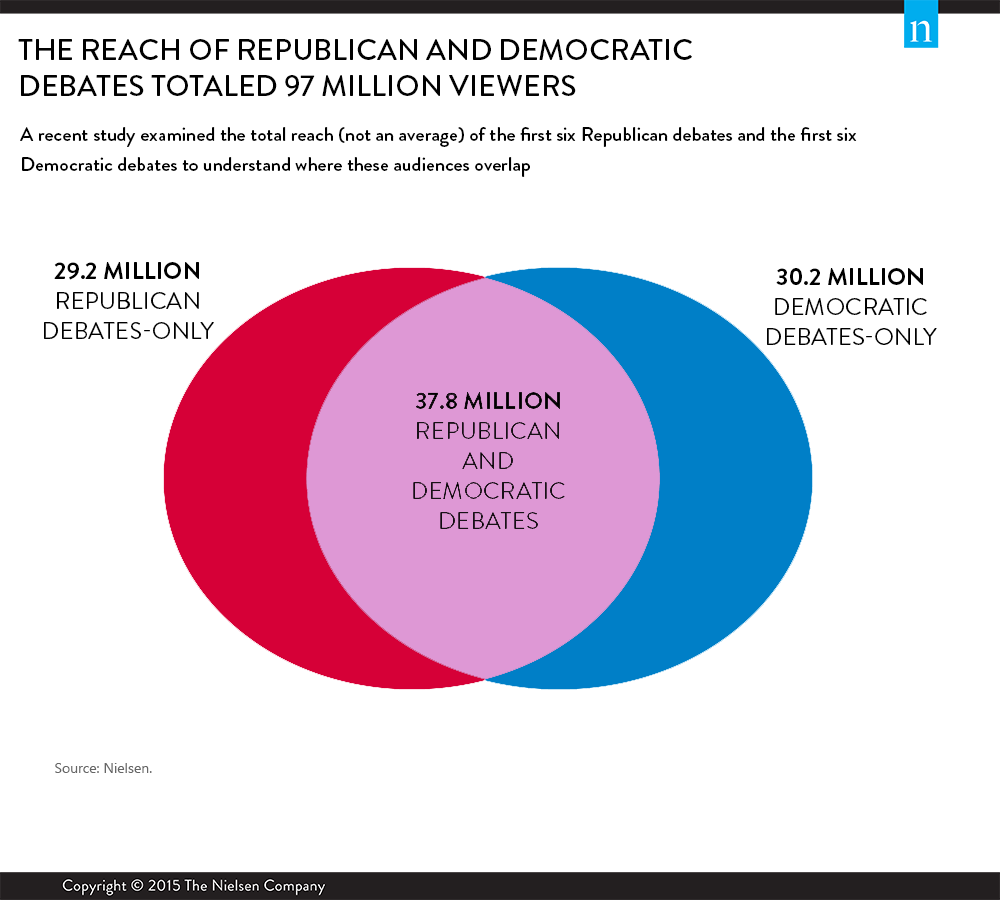 While the Democratic debates reached slightly more viewers, audiences spent more time watching the Republican debates. The 97 million debate viewers averaged 138 minutes watching the Republicans and 63 minutes watching the Democrats.
The 68 million viewers who watched the Democratic debates spent slightly more time watching (an average of 90 minutes), but they too spent more time (141 minutes) watching the Republican debates. Likewise, the 67 million viewers of the Republican debates watched for an average of 200 minutes, and spent less time (70 minutes) watching the Democratic debates.
But, importantly, viewers who watched both party's debates spent more time viewing than those who watched only the debates of one party. Democratic-only viewers watched for an average of 48 minutes as opposed to an average of 124 minutes for those who watched both. Republican-only viewers watched for 131 minutes on average versus 254 minutes on average for those who watched both.
The group that watched both debates, 37.8 million viewers strong, accounted for 39% of total debate viewers but did 73% of all the viewing, perhaps signifying that the more engaged viewer finds the time to balance both sides of the political pontification.
For more insights into this election season, visit our Election Central.